At Computex 2016, Wanshih showcases the thinnest, most flexible cables for AR/VR, certified USB 3.1 Type C cables assembly and RF design total solutions
Press release
Wanshih Electronic exhibits at 2016 Computex from May 31 to June 4. We "Connecting Everything" and will show you USB 3.1 Type C Gen2 with PD, AWG46 mini coaxial cable assembly and LTE-A antennas at our booth, A0525.
Wanshih gets USB-IF TID certificate USB 3.1 Type C Gen 2 10G with PD. USB 3.1 Type C is small with high speed transmission up to 10G and will be the core technology for mobile devices.
AR/VR, drone and surveillance markets are rising. The requirements for flexible and light cable become critical issues. Wanshih provides internal and external cable solutions prior to world with ultra thin coaxial cable for AWG 46 and auto-assembly production ability with 0.25pitch. Our customized cables do great support for our customer with stability and high performance.
Not only developing various antennas (4G/3G/2G/WiFi/NFC/IOT), we also provide the total solutions of LTE and MIMO WiFi. Our 3D printers and full-size OTA (Over The Air) 3D RF chamber regulated by CTIA quicken and enhance our RF design ability. We broaden our production lines from vehicle network, smart city, medical network and 5G Tele-communications.
Our booth, A0525 (WONTEX) at TWTC Hall 1 with Wonderful Hi-Tech Co., Ltd. We sincerely invite you to visit and experience total solutions with wire and wireless high-speed transmission. Please visit our website: www.wanshih.com.tw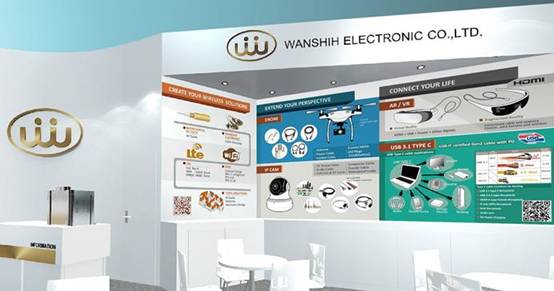 Wanshih Electronic showcases new products at Computex 2016