Machine vision will gradually expand into consumer applications: Q&A with Arbor CTO Karl Chen
Joseph Tsai, DIGITIMES, Taipei
Taiwan-based Arbor Technology has been in the industrial PC (IPC) secor for over 20 years and has always been an important upstream partner of worldwide IPC brand vendors. With automated production lines and Industry 4.0 gradually becoming the new trends of the IPC industry, Arbor also is keenly developing solutions for clients.
Digitimes recently interviewed Arbor's CTO Karl Chen, who talked about the company's latest progress on machine vision product development.
Q: Is Arbor's machine vision equipment for automated production lines accounting for a heavy portion of the company's overall shipments?
A: In the past few years Arbor was in the stage of market cultivation, focusing mainly on sending out samples and providing compatibility tests to first-tier machine vision equipment brand vendors worldwide.
We started seeing surging demand for related applications in 2017 thanks to the rising popularity of the Industry 4.0 concept. Other key growth drivers include rising labor costs and clients' increasing demand for equipment's precision and yield. To cut down expenses and satisfy clients, more and more product manufacturers are considering adopting machine vision equipment to replace the traditional manual labor.
We are seeing our brand equipment clients aggressively looking to satisfy such demand and therefore we expect our machine vision product shipments to continue enjoying growths in the next couple of years.
Q: What is Arbor's vision about the machine vision market's future?
A: Currently, factory manufacturing is the main application for machine vision. However, with the releases of Nvidia's deep learning platform, the Jetson TX2 and Intel's deep learning VPU solutions, edge computing will grow to become a new trend for the automated production market.
Since all the calculation and logic analysis can be instantly processed at the edge side, in the future back-end servers will no longer need to process every single calculation request from equipment and can focus mainly on collecting calculated data done by the edge side to conduct big data analysis for Internet of Things (IoT) applications.
With more hardware and software players joining the deep learning development, machine vision's applications will gradually expand from factory manufacturing to the smart home and more products such as autonomous driving vehicles, smart surveillance electric fencing, service robots and drone, will feature the machine vision functionality.
Q: How can machine vision benefit IPC?
A: Machine vision is actually part of the IPC and can be treated as a type of sensor. With cameras growing smarter, the development of controllers is now marching to a direction of featuring a smaller form factor and more sophisticated functions.
For example, during the traditional image analysis process, IPCs were required to equip with a frame grabber card for gathering images, but now cameras are already capable of processing some simple analysis and image capturing, leaving controllers and IPCs with less work to do and they can have a more simplified and refined structure.
However, this does not mean IPCs are less important than before; the systems are still responsible for in-depth analysis and calculation of the captured images and via system settings IPCs are able to handle actuators' controls based on users' demand. Smart cameras detecting defective products and sending information to the IPC for it to control robotic arms to remove bad items is an example of the process of the combination.
With more software designers joining the industry to develop solutions for sensors and AI-related applications, the supply chain will be able to expand their product coverage to consumer applications such as autonomous driving vehicles, smartphone recycling detectors, service robots and smart surveillance electric fencing to further enlarge the market.
Q: What are the advantages of Arbor's machine vision technology?
A: To satisfy high-end machine vision equipment vendors' demand, Arbor is able to install transmission interfaces such as PoE/USB 3.0 in its image inspection equipment and DIO/COM ports in its related industrial equipment. Via its expandable modularized I/O board design, Arbor is able to quickly create customized solutions to answer each client's demand.
In the modern world, machine vision technologies' required hardware configurations are no longer as simple as in the past. We usually see our clients' complete machine vision solutions have an overall power consumption surpassing 200W with multiple POE/USB 3.0 cameras lens and a specified image capture card.
To dissipate the heat generated from the high power consumption in fanless equipment has always been an issue for IPC players, but Arbor's experience from its ODM/OEM support to brand vendors in Europe and North America in the past several years has given the company advantages in heat dissipation technology and high-performance IC designs.
Q: What other emerging technology or products is Arbor currently developing?
A: We have products for automated optical inspection (AOI) applications. Eurotunnel has adopted Arbor's industrial-level fanless embedded IPCs to improve the efficiency of its automated and manual tolling system at Channel Tunnel. The system also features machine vision technologies to detect car plates and control gates for better management.
Arbor also has a mobile device recycle inspection system that can be used for recycling and inspecting handsets.
The company is also developing autonomous driving solutions with deep learning capability. The high-end solutions will use Nvidia's Jetson TX2 platform, while entry-level applications are all based on Intel's VPUs.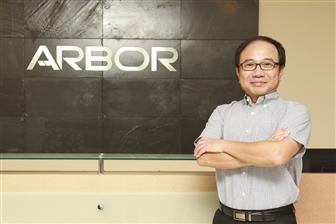 Arbor CTO Karl Chen
Photo: Company