The government of Taiwan's Yunlin County will operate EZ10, a Level 4 autonomous-driving electric shuttle bus produced by France-based Ligier, for public transportation in a green energy park under development and other sight-seeing spots in coastal and downtown areas.
EZ10 underwent road trial run in Taipei in August and in Kaohsiung in October 2017. EZ10 has six seats, plus room for another six standing passengers. At full power charging, EZ10 can run for 10 hours at an average speed of 20-25km/hour.
The development of the green energy park is a project modifying an existing industrial park occupying land area of 1,176 hectares. The green energy park is planned to house PV power stations totaling 800MWp, with establishment scheduled for 2019.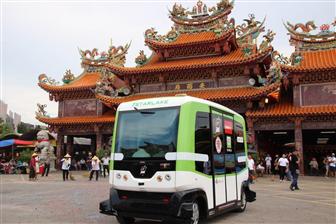 EZ10 in the front yard of a famous temple in Yunlin
Photo: 7StarLake