10078 news items tagged Taiwan
Taiwan's Industrial Technology Research Institute (ITRI) has been engaged in the development of next-generation non-volatile memory technologies, such as ferroelectric RAM (FRAM)...

Taiwan-based semiconductor equipment suppliers engaged in TSMC's supply chain are set to be among the beneficiaries of the foundry house's advanced process capacity expansion with...

As demand for locally-developed CPUs and GPUs in China continues rising amid the US trade sanctions against Chinese IT enterprises, Taiwan-based IC substrate suppliers are expected...

Handset sales in the Taiwan market are expected to grow 25% to 3.6 million units in second-half 2020, up from 2.9 million units shipped in the first half of the year, according to...

The board of directors of Taiwan Semiconductor Manufacturing Company (TSMC) has approved plans to issue NT$13.9 billion (US$471.7 million) in unsecured bonds to help purchase new...

Taiwan's Ministry of Economic Affairs (MOEA) is urging international material and equipment makers to invest in Taiwan where demand for semiconductor equipment, especially from the...

Apple is likely to adopt mini LED backlighting for its new product models to be launched in the second half of 2020 and this is expected to bring orders for Taiwan-based display driver...

Nokia has announced that it has been selected by Taiwan Mobile (TWM) as the sole supplier of its 5G network in a three-year framework deal worth approximately EUR400 million.

IC test solutions provider Keystone Microtech is looking to expand its production capacity at its plant in Hsinchu, northern Taiwan to satisfy growing demand for networking chips,...

Taiwan-based Chief Telecom's cloud computing and Internet datacenter (IDC) businesses are expected to see growths thanks to uprising demand from the stay-at-home economy in the wake...

Taiwan-based rigid PCB makers have moved to increase production of high-layer-count PCBs that have seen a significant surge in demand since the start of 2020, according to industry...

Taiwan-based IC substrate makers continue to improve their AiP (antenna in package) substrate production yield rates seeking to gain a firm presence in AiP packaging that is expected...

Far EasTone Telecommunications will launch its commercial 5G services in Taiwan on July 3.

As of December 2019, Taiwan led the world in wafer capacity with about 22% of worldwide capacity installed in the country, according to IC Insights. Taiwan surpassed South Korea in...

Taiwan recorded manufacturing production index (2016 as base year) of 110.44 for May 2020, increasing 1.16% sequentially and 1.68% on year, according to the Ministry of Economic Affairs...

Handset sales in Taiwan shot up 30.5% sequentially to 535,000 units in May, as consumer demand began to pick up along with the easing of the coronavirus epidemic, according to sources...

Many enterprises around the world are facing increasing pressure to take sides in the wake of the US-China trade tensions, but Taiwanese firms with global operations can hardly do...

Although some Taiwan-based makers with factories in China have been moving or plan to relocate production lines out of China to cope with the US-China trade disputes, others are still...

Deep01, a developer of artificial intelligence (AI) software designed to help physicians interpret computerized tomography (CT) images of the brain, has raised US$2.7 million in financing,...

Taiwan-based makers received export orders totaling US$38.89 billion in May 2020, increasing 0.9% sequentially and 0.4% on year, according to the Ministry of Economic Affairs (MOEA...

AU Optronics (AUO) has completed the installation of two new production lines for high-end display and modular products in Taiwan. The new facilities are part of a NT$40.7 billion...

Fabless chipmakers in Taiwan and China specializing in display driver ICs and fingerprint sensor chips are keenly developing OLED DDI chip solutions for smartphones seeking to build...

HTC has launched its first 5G smartphone, the HTC U20 5G, in Taiwan ahead of 5G commericialization in the local market starting July.

GlobalWafers has held a groundbreaking ceremony for the expansion of subsidiary Taisil Electronic Materials, and will use offshore capital to fund the expansion, which is set to complete...

To demonstrate its smart city solutions to other cities worldwide, the local government of Taoyuan, Taiwan signed contracts with Local Governments for Sustainability (ICLEI), a network...
Related photos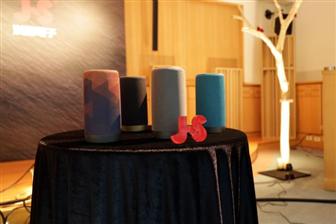 Jazz Hipster smart speaker
Photo: Company, Friday 1 September 2017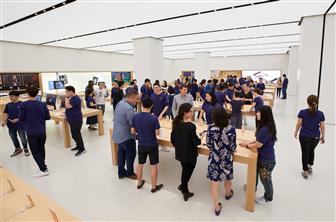 Apple Taipei 101 store
Photo: Company, Tuesday 4 July 2017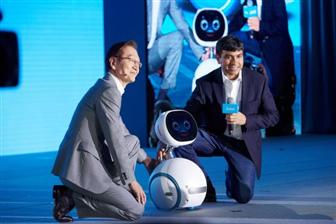 Asustek Zenbo home service robot
Photo: Monica Chen, Wednesday 4 January 2017
Related news around the web