Ganzin Tech launches eye tracking modules for XR applications
Mark Tsai, Taipei; Willis Ke, DIGITIMES
Ganzin Technology has launched Aurora eye tracking solution, which can integrate VR (virtual reality), AR (augmented reality) and even XR (extended reality) technologies to better tap into diverse tech applications, according to company founder SY Chien.
Chien said the Aurora is a module comprising one eye tracking IC and three specially-designed camera lenses, which can be paired with AR or VR facilities for use in many applications, such as user interface, market research, entertainment, medical research, and diverse training and education purposes.
Chien continued that in future smart healthcare applications, surgeons can during surgery operations, directly utilize smart glasses connected with the eye tracking solution to access the patient's medical records, latest surgery data, and vital signs, without having to use their hands.
Chien stressed that humans and machines will jointly create more values, and there will be more effective ways of interaction and connection between them. Accordingly, Ganzin hopes to develop systems that can use eye movements or emotional expressions to make more natural and smoother connections between humans and computers.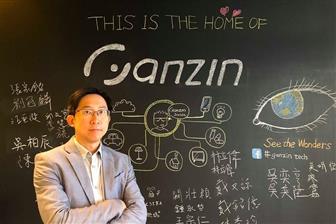 Ganzin Technology founder SY Chien
Photo: Mark Tsai, Digitimes, December 2018