New Memxpro industrial SSDs with Micron durable 3D TLC
Press release
Memxpro, a leading DRAM module and SSD solution provider for defense, industrial, in-vehicle, and enterprise markets, announces the release of a new industrial TLC SSD series at the Embedded World 2019 tradeshow in Germany. The new 3D TLC SSD series includes PT30 (with DRAM) and ET30 (without DRAM), and use SMI controllers and Micron original industrial B17A 3D TLC flash with 10K P/E cycles and a 4-year warranty. In addition, the exhibition highlights Memxpro's latest high-speed U.2 PCIe and M.2 2280 PCIe PT33 series with industrial 3D TLC, huge-capacity 4TB SSDs, and wide temperature DDR4 2666 DRAM modules. There is also a live demo of their mSMART storage monitoring toolbox for information retrieval and device management.
A new venture in industrial 3D TLC with 10K P/E cycles
Memxpro launched their new NVMe PCIe PT33 and SATA 3 PT30/ET30 SSDs paired with Micron's original 3D TLC with 10K endurance to meet the industrial demands of AIoT. The new product series provides comprehensive data protection and enhances the endurance and retention performance of 3D TLC NAND, delivering better durability for 3D TLC SSD products. They are the ideal choice for embedded applications, industrial equipment, and edge devices operating in challenging environments.
A new era of industrial-grade multi-terabyte storage
As flash technology advances, high-capacity SSDs are becoming standard in industrial data applications. Plus with industry advancements, manufacturers are bringing new form factors and speeds to the market. Memxpro's high-capacity E231 series offers storage capacity of up to 4TB for its 2.5" SSD series, up to 1TB for its mSATA and Half Slim series, and CF cards of up to 256GB. This product family complies with JEDEC standards, combining eMMC flash arrays with proven quality and stability, 3,000 P/E cycles of MLC, original extended temperature (-25 degree C~+85 degree C) ICs, and additional industrial wide temperature support (-40 degree C~+85 degree C).
Industrial high-speed DDR4 2666 hits the road
In the era of high-speed memory and storage, DDR4 has become the new standard for industrial memory in 2019. Memxpro's high-speed DRAM DDR4-2666 modules comply with the JEDEC standard to achieve 2666 MHz without overclocking RAM. The original high-quality branded memory ICs and industrial spec design makes for a low operating voltage of 1.2 V for energy-conscious power consumption and thermal efficiency. Wide temperature memory modules (-40 degree C to +85 degree C) are ideal for applications that must ensure high performance and product stability in extreme climates or industrial environments.
Click-to-use mSMART 4.0 powers intelligent storage monitoring
Easy to use and intuitive, Memxpro mSMART 4.0 storage device monitoring software tool is available free for download. Enabling the predictive power of big data analytics, mSMART detects problems and provides alerts to reduce routine inspection tasks and operational costs. Integrated with an enterprise database, the system will record SSD status and store data logs to benefit big data analytics that help make better informed decisions.
Visit Memxpro at booth No. 2-407, Hall 2, Exhibition Centre Nuremberg, Embedded World 2019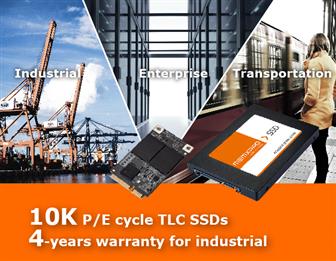 New Memxpro 3D TLC SSD debuts at Embedded World 2019
DIGITIMES' editorial team was not involved in the creation or production of this content. Companies looking to contribute commercial news or press releases are welcome to contact us.