Taiwan unveils AI Hub
Bryan Chuang, Taipei; Adam Hwang, DIGITIMES
The Industrial Development Bureau has started operation of AI Hub, a web-based one-stop AI application platform that is part of the 4-year (2018-2021) Taiwan AI Action Plan, according to the Ministry of Economic Affairs (MOEA).
There are 16 industry associations and organizations, 72 AI startup businesses and nearly 600 enterprise users of AI solutions participating in the hub, MOEA said.
The hub provides three core services: Needs assessment (web-based questionnaires are used to understand enterprise users' AI application and thereby assess their AI capability, diagnose their problems and make recommendations.); solution marketplace (AI solutions available in Taiwan are are collected to let enterprise users search for needed AI solutions and try online AI algorithms to help them apply AI to business decision making.); and service on demand (AI start-up businesses and experts provide consulting services to meet enterprise users' demand, including proved cases of AI application.).
The hub is an innovative AI ecosystem to boost industries' smart operation and development of AI application in Taiwan, MOEA indicated. Small- to medium-size enterprises and companies in traditional manufacturing are target users of AI Hub at present.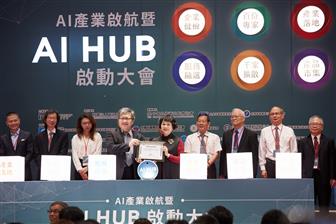 AI Hub inaugural ceremony
Photo: Michael Lee, Digitimes, October 2019