With related 5G and AI technologies promising significant impacts to various industries, telecom operators not only have to enhance their basic infrastructure but also need to positively undergo transformation enabling them to innovate more value-added services, according to James Lee, vice president of carrier business at Far EasTone Telecommunication (FET).
Taiwan's government is now in the process of releasing spectrums for 5G services, and competition for bandwidth is bound to be fierce because only with sufficient bandwidth can telecom operators expand their role in the new mobile communication era and stand firm under the impacts of "5GxAI," Lee said at a recent technology forum held in Taipei recently.
The competition is be compounded by the fact that the government is releasing only 270MHz in bandwidth in the core 3.5GHz band through open auction by five local telecom operators, and each operator may need at least 80-100MHz in bandwidth to enable the offering of comprehensive value-added services, Lee noted.
Even so, Lee said that he remains positive about the commercialization of 5G networks as Taiwan will be able to leverage its well-established IT ecosystem spanning from IC design, foundry, backend packaging, coupled with profound ICT applications and the availability of related supply chains.
Judging from the development of related 5G application services in Korea, Lee continued that remote-monitoring on machinery equipment, collaborative efforts with robots, smart factories, medical care and surveillance will be better choices for 5G services in the early stage.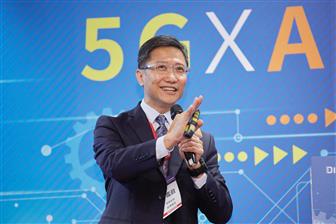 FET VP James Lee
Photo: Digitimes staff, December 2019