In the "Insights 2020: Women in Startups" virtual forum co-hosted by Qualcomm Incorporated and Taipei Computer Association (TCA) on October 15, Varsha Tagare, senior director, Qualcomm Technologies, Inc and managing director, Qualcomm Ventures, and 500 Startups Venture Partner in Taiwan Jackey Wang, told the audience that there is no better time than now to start a business.
"Be bold and go for it," Tagare encouraged people who are thinking about starting up their own business to take the plunge. "Software development resources are more readily available today, with the ability to reach customers through smartphones and laptops."
Jackey of 500 Startups indicated that the Startup Ecosystem as a whole is much better than 10 years ago, or even earlier. It is rich with resources for entrepreneurs to leverage, not only from the governments and private sectors such as corporate investors, but also from successful entrepreneurs who want to give back.
Two female entrepreneurs also participated in the panel to offer their experiences and insights in their startup journeys. Jiajia Yeh, co-founder and CEO of Nestech, and Aardra Kannan Ambili from RIoT Solutions, shared what inspired them to come up with ideas to solve people's problems and improve quality of lives. They both agreed that curiosity, passion and flexibility are important traits as entrepreneurs. Their suggestions and advice for people who are experiencing bottlenecks and difficulties in their entrepreneurial endeavors are: stay focused, re-imagine problems to find different answers and be open to feedback while also learning from past experiences.
Although it might seem counter-intuitive, the panelists unanimously said that it does not require a technology background for women to run a tech company or even to enter the tech industry.
Tagare said technology can be regarded as a tool, not necessarily an end-result. She stressed that a good start-up idea can use technology in many fields, such as medicine, or babies, or anything of passion and interest for an entrepreneur.
Wang, who herself graduated from UC Berkeley and started her career as a software engineer, said technology is a helpful tool, a language and logic to understand different information and different people, even in retail. "But there is no limit, no restriction for being a tech entrepreneur. You don't need to have a formal degree, even all of us have transitioned from different fields into technology." Wang also urged entrepreneurs in Taiwan to think big, aim big, "When you think about a project, instead of just thinking about the local market, try target the global market and solve global problems while leveraging resources here."
Yeh, who had spent more than 10 years in China and Vietnam as a marketing and sales manager to traditional industry companies, echoed with Jackey and stressed that passion is what matters. Aardra from RIoT Solutions, which created a non-contact baby monitor to solve problems of parents with new-born babies, encouraged the women in the audience that "no one knows everything, but there is always so many problems waiting to be explored and solved".
How would female entrepreneurs and venture capitalists differ from their peers of the other gender? Wang said women think differently from men, so would contribute different perspectives. She stressed that women have a lot of qualities that the technology industry can leverage, such as empathy in humanity, interpersonal knowledge of how the world works, and are closer to real users of products and services. Aardra from RIoT Solutions believed that women taking part in the startup system is empowering the equity of genders. "Women in ownership will definitely increase equity and opportunities," she said.
However, Wang opined that when it comes to investments, the standards are all the same for everyone. "Although women seem to have communication and coordination skills as an advantage, entrepreneurs all need to have those set of skills, such as communication, coding, or being bold. And those who do have those skills are more likely to succeed in getting funded or building up a team."
The inspiring forum attracted more than 200 people who had registered and watched online on YouTube and Zoom. Tagare attributed "amazing stamina" and "strong family support as an anchor" as two important qualities in common for successful entrepreneurs. Though she repeatedly mentioned that starting up a company at early stage is a very difficult and strenuous journey, she iterated Qualcomm Incorporated's commitment in supporting women entrepreneurs, and providing the framework and management capability to train startups, in terms of funding, labs, go-to-market know-how, etc.
The Qualcomm Design in India Challenge and the Qualcomm Innovate in Taiwan Challenge (QITC) are two key examples for giving entrepreneurs opportunities to come up with brilliant ideas and help bring them to fruition. The QITC 2020 Finale is scheduled to be held on the afternoon of November 11.
Tagare is a managing director at Qualcomm Ventures. She oversees a US$150m fund dedicated to India and cross border Digital Enterprise investments for Qualcomm Ventures, and previously worked at Intel Capital to manage global equity investment in mobile technology.
Qualcomm Ventures was established in 2000. It has over 150 companies in its portfolio and focuses on investing in areas such as 5G, artificial intelligence (AI), auto, Internet of Things (IoT), networking, enterprise, and digital health. It celebrates a track record of 11 unicorn (startups with valuations of about US$1 billion) exits in the last five years, including Affirmed Networks, Inc (acquired by Microsoft), Zoom Video Communications, Inc, Cloudflare, Inc, Advanced Micro-Fabrication Equipment, Inc. (AMEC), Xiaomi Corporation, Mobike Ltd, Ring Inc, 99 Taxis, Cruise Automation, Inc, Thunder Software Technology Co, Ltd (Thundersoft) and FitBit, Inc.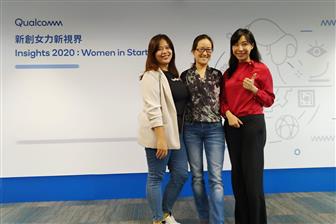 Women in Startups: Jiajia Yeh of Nestech (left to right), moderator Hannah Chou, and Jackey Wang of 500 Startups Taiwan
Photo: Judy Lin, Digitimes, October 2020