In recent years, consumer and commercial markets have seen a sharp increase in demand. In order to keep up with this trend, enterprises have to upgrade their IT system functions; as a result, virtualization has risen to become one of the most sought after solutions. Through virtualization, enterprises can make the most of the performance delivered by IT systems. Therefore, apart from large-scale cloud service providers and independent software vendors (ISV) that have considered virtualization as the main infrastructure of their products, small-scale operators have also begun investing in this technology.
AEWIN has navigated the network appliance sector for many years. Recently, the Company has launched a series of networking platforms based on the latest 3rd generation Intel Xeon processors. These platforms along with support from AEWIN can shorten the development time for ISV, helping them to swiftly build platforms for various network functions and edge AI applications.
AEWIN has cooperated with Intel for many years and participated in a series of development projects of processors. Therefore, AEWIN can launch new computing platforms concurrently with Intel product announcements to allow ISV clients to build high-performance network computing and industrial-use solutions with the latest technologies. The recently launched SCB-1932 and BIS-5221 are great examples of this.
The SCB-1932 is a 2U rack-mount hardware network system, providing a highly flexible networking platform. It is built upon Intel Whitley platform and supports 3rd Gen Xeon® Scalable Processors (Ice Lake-SP) and C621A/C627A PCH (Lewisburg). This new generation platform has a generational leap in computing power and supports up to 40 CPU cores and Ultra Path Interconnect (UPI) system bus that links up to 11.2 GT/s.
The SCB-1932 supports 8x channels DDR4 RDIMM (up to 3,200 MHz) and a memory capacity of up to 1TB with 64 PCIe lanes per CPU. Front of the system supports up to 8 network expansion modules for flexible port configurations, such as 1/10/25/40/100 Gigabit optical fibers, with or without BYPASS function. The maximum total Ethernet bandwidth capacity is up to 1,000GbE. In addition, the SCB-1932 supports two front hot-swap 2.5" SATA HDD/SSD docks and onboard Compact Flash/m-SATA/M.2 slots for network storage applications. U.2 NVMe drives are supported with optional conversion kit for those that requires the highest bandwidth and heavy IOPS storage workloads.
The BIS-5221 is a 2U/12-bay Hybrid Storage Server System that supports 3rd Gen Intel Xeon Scalable Processors. This new CPU architecture provides higher Instruction Per Clock (IPC) for a leap in performance. . Its 8-memory channels design (16 RDIMMs per CPU) support greater memory bandwidth and capacity. Moreover, the BIS-5221 has a flexible and scalable I/O interface, supporting up to 2x OCP 3.0 network cards and 8x standard PCIe slots. In terms of the system, the BIS-5221 features hot swap drive trays and PCIe slots (supporting up to 2 GPUs), with a cutting-edge design thermal solutions. All these designs provide stability, making this system reliable for AI, cloud computing, and information security appliances.
Aside from high performance and stability, AEWIN has also strengthened the level of information security of the BIS-5221. The BIS-5221 adopts three types of Intel's information security designs: Total Memory Encryption (TME), Software Guard Extension (SGX), and Platform Firmware Resilience (PFR). TME is full memory encryption that prevents unauthorized programs from accessing data in RAM. SGX provides powerful hardware-based protection mechanisms for software. PFR is designed to protect firmware from tampering and unauthorized changes. It can detect and block external attacks and restore damaged firmware data back to its normal status.
The SCB-1932 and the BIS-5221 are platforms designed to meet high computing demands. In the past, the cooperation between AEWIN and Intel mainly focused on IoT products, but now the focus of our cooperation has shifted to the fields of servers and data centers. Particularly in the recent years when enterprises have depended more and more heavily on high performance IT systems, AEWIN has expanded its project teams for increased VNF validation, performance optimization, firmware tuning, and offering customized services in order to help ISV build IT systems that suit their needs. Compared with off-the-shelf general purpose servers of commercial brands, AEWIN's products can deliver better performance for the same hardware specifications. In the future, AEWIN will continue to enhance the comprehensiveness of its product lines and service quality to provide customers with the best user experience.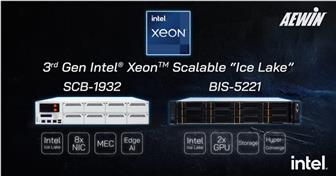 New servers powered by Intel's new CPUs from AEWIN

AEWIN SCB-1932 server

AEWIN BIS-5221 server