Smart manufacturing has been the most important trend in the manufacturing industry in recent years. Compared to the focus on individual equipment efficiency in traditional production lines, smart manufacturing focuses more on overall solutions. However, JPC believes that industrial systems are not only complex because of multiple brands coexisting on the market, but also require much higher system stability than other industries. Therefore, when building industrial manufacturing systems, special attention must be paid to the compatibility between communication protocols of different brands and the quality of first-line equipment and components, so that the system can meet the needs of clients.
In the face of increasing competition and difficulty recruiting workers due to Taiwan's sub-replacement fertility levels, transitioning to smart manufacturing through new technology and new ideas has become essential for the sustainable survival of the manufacturing industry. However, the fact that manufacturing systems involve a massive range of components and that smart manufacturing is a novel concept means that for companies, the transitioning task is a daunting effort with no apparent starting point.
In response, JPC stated that it has an extensive record in the industry and that its main business is to provide connectors and related parts and components. However, the company has also established itself in the fields of cloud networking, Internet of things (IoT) systems, and new energy vehicles (NEV). Especially for industrial manufacturing IoT systems, not only does the company have a comprehensive product line and IoT team, but its factories have also accumulated considerable experience in smart manufacturing. These two factors define the company as a system designer in service to manufacturers. JPC can help clients identify process pain points and create the most optimized systems.
JPC pointed out that the topology of industrial IoT networks can be divided into the three layers: Device Layer (Control Layer), Communication Layer (SCADA Layer) and Application Layer (Cloud Layer), with each layer having corresponding components and products. First, the Device Layer is comprised of various sensors in charge of detecting operational data from first-line equipment. Second, the Communication Layer is responsible for aggregating the detected data and sending it to the processing system higher up in the topology. Lastly, the Application Layer will then store and analyze the data it has received to help managers accurately control and monitor the manufacturing status and to set production strategies accordingly.
JPC already has a complete product line for components and devices used in industrial IoT networks. At present, Modbus and Ethernet are still the mainstream communication standard in industrial equipment, while NB-IoT, UWB, and other wireless communication technologies are also becoming increasingly common in manufacturing. In this regard, JPC offers high-quality solutions. The company is also an authorized dealer of Yamaha, a major Japanese brand, for products related to the hallmark equipment of automated factories - robotic arms. These products make JPC able to provide a one-stop shop for manufacturers.
In addition to possessing comprehensive solutions for industrial IoT networks, JPC is also actively collaborating with other companies, pointing out that such cross-field cooperation has long become a necessity due to manufacturing systems being comprised of technologies from multiple fields. The Company has been working with FSP Group and Coretronic, among other strategic partners, in forming a smart technology 5G task force. Such extensive and strategic partnership has already given rise to many successful case stories.
For example, the UWB sensors recently developed by JPC. By combining the ultra-wide band (UWB) technology and the Company's strong product development capabilities, JPC was able to create a sensor with high-precision positioning capability that can be used to locate and track the objects on a 2D or 3D plane. Unlike other object positioning systems that only function indoors, the Company's UWB sensors can be used outdoors with a detection range of up to 500 meters. JPC worked with the client to integrate UWB sensors and AI technology into their logistics operation and unmanned factory systems. The intelligent system can assist logistic companies to accurately grasp the location and route of the goods, and to effectively dispatch vehicles to optimize the efficiency of warehousing operations.
While this is only a single example, it nonetheless demonstrates JPC's strong capabilities in smart manufacturing planning and integration. JPC added that their high-quality products ensure the stability and performance of its systems. With a diverse product portfolio, excellent customer relations, strategic partnerships, and integration expertise, these four key strengths have allowed JPC to stand out from traditional parts and components suppliers and successfully transition into a comprehensive solution provider for smart manufacturing systems. The Company pointed out that in the era of smart manufacturing, clients do not need isolated equipment and technology, but a customized solution that can accurately solve the client's pain points and increase their efficiency. JPC can design the most optimal infrastructure tailored to the needs of clients and assist them with the digital upgrade of their company despite resource constraints, helping clients become more competitive in the increasingly harsh ecosystem of the industry.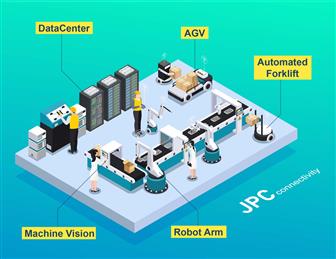 JPC successfully transitions into a comprehensive solution provider for smart manufacturing systems