Is the information and consulting service industry a buyer's or seller's market? The answer depends on the mentality of buyers and sellers and the current industrial environment. Nevertheless, I believe the next 10 or even 20 years will be a golden period of professional information service industry. With increasing diversity of business opportunities, companies that can provide professional services are getting fewer. But it eventually depends on the mentality of both sides to characterize it as a buyer's or seller's market.
If buyers understand that buying knowledge is only a fraction of their overall operating cost, they might consider the alternatives to obtain information at appropriate costs. But if the buyers lack the mechanism to absorb outside knowledge because of corporate culture and organizational structure, even if they need it, they may not be willing to pay the price for professional information and consulting services from decent sources. Some buyers even deride consulting companies with comments like: "They look at the clients' watch and tell them the time." But this is the normality in the consulting service industry. If customers lack trust in consulting companies, they may question the value of consulting services.
Speaking at the banquet marking the 20th anniversary of Monte Jade Science and Technology Association of Taiwan, Morris Chang mentioned that in 1996 he disagreed with the company president on TSMC's management structure. TSMC invited McKinsey to conduct an in-depth study on whether TSMC should operate under the "BU" system. Smart and confident, Chang still understood the significance of gleaning views and messages from different sources of outside consulting companies. Chang disclosed that it was his second time to request outside consulting services. Had TSMC not provided internal information to McKinsey, how could McKinsey have come up with the best insights and suggestions?
Only if trust between the client and the consulting company is established can there be consulting specifications and prices. Taking into account different expertise of each consulting firm, IT enterprises must be cautious mulling over the alternatives of service providers. For instance, if DIGITIMES is good at developing business strategy through coopetition analysis within the Asia-Pacific supply chain, they should consult DIGITIMES based on the supply chain to maximize their desirable results. If the following key topics are prioritized as the subjects of business strategy to explore over the next 10 years, we must know how to define the specifications and identify the contents and scopes that service providers can deliver including the grey zones of tolerance.
In response to future strategic planning of large enterprises and technological transformation, we must grasp the important trends of communication, computing and display technology, which seem to be available everywhere in Taiwan. Among other things, semiconductor technology which interweaves the above three sectors is particularly important. What amazing applications can be developed through technical trends of cybersecurity, AI, and big data? What is the cross-relationship among smart cities, future cars, smart manufacturing and other application fields?
All these will influence the business deployment of enterprises for the next five to 10 years. Are we to put heads together to develop strategies, or come up with strategies through interpreting and analyzing information related to the megatrends?
ESG has become a topic of concern to address these days. The issues are essentially related to more upstream levels of geopolitics, energy policy, demographics, and purchasing power. Our "common sense" no longer sufficiently meets the needs of today's businesses. Therefore, you can begin to imagine whether the professional consulting service is a buyer's or seller's market.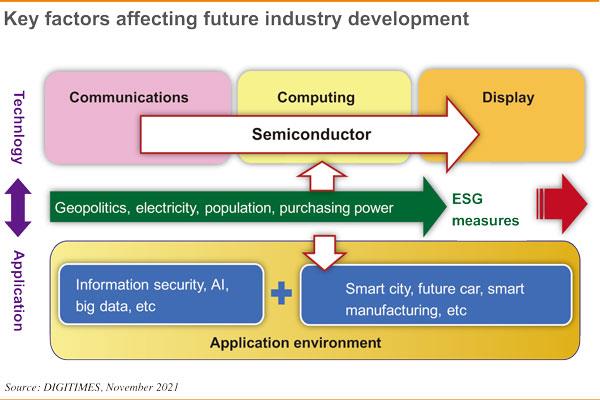 (Editor's note: This is part of a series of analysis of Taiwan's role in the global ICT industry.)