In order to improve service, the global testing certification institution, DEKRA, established Taiwan's first high frequency EMI noise absorber automatic storage anechoic chamber. Breaking from traditional manual placement, the site can be automatically controlled like a stage and the high frequency EMI noise absorber can be elevated in 1 minute and 40 seconds. Not only can it shorten the 1 hour site configuration time, it can also reduce human errors in placement, helping customers to save time and costs and improve testing accuracy.
DEKRA established Taiwan's first high frequency EMI noise absorber automatic storage anechoic chamber, which only needs 1 minute and 40 seconds to complete the automatic deployment and storage of the high frequency EMI absorber
Kilian Avilés, Senior Vice President of DEKRA Asia Pacific and Managing Director of Taiwan, stated that with the trend of digitization, smartification, and implementation of IoT, the EMC in our environment is getting more complicated. Therefore, the need for global EMC and RF testing is reaching new heights. So, in recent years, DEKRA has been actively establishing more anechoic chambers and expanding more advanced lab equipment. DEKRA has created various anechoic chambers in Hsinchu, Huaya and Linkou, to provide customers with complete electromagnetic compatibility (EMC) testing services for electromagnetic interference (EMI) and electromagnetic susceptibility (EMS).
Daniel Lee, General Manager of DEKRA Taiwan Product Testing Operations, stated that besides creating Taiwan's first automatic high frequency EMI noise absorber storage function for anechoic chamber, the new 10-meter anechoic chamber in Linkou is also integrated one multi-use turntable system in 3 meter and 6 meter diameter concentric circles. The turntables can be used flexibly depending on the size of the product. The testing service covers products from consumer electronics, mobile phones, computers, to large products, even servers can be tested. The chamber utilizes dual-antenna testing, which can complete horizontal and vertical polarized testing at the same time, greatly reducing testing times. Furthermore, in order to save the customer's time and protect the products, the anechoic chambers are designed with no barriers so that trucks can drive directly into the lab to place the products, eliminating the time and trouble needed for manual transportation. Daniel Lee further emphasized that with the corporate principle of "Customer Focus", DEKRA is continuously upgrading its lab equipment and service procedures, in order to provide the customers with more customized, professional and digitized services and testing certification service.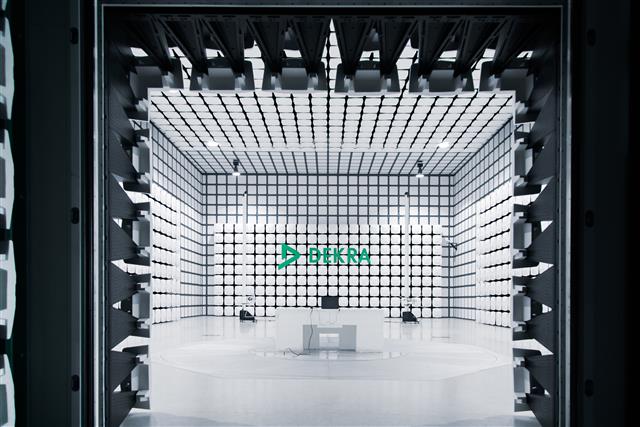 the new 10-meter anechoic chamber