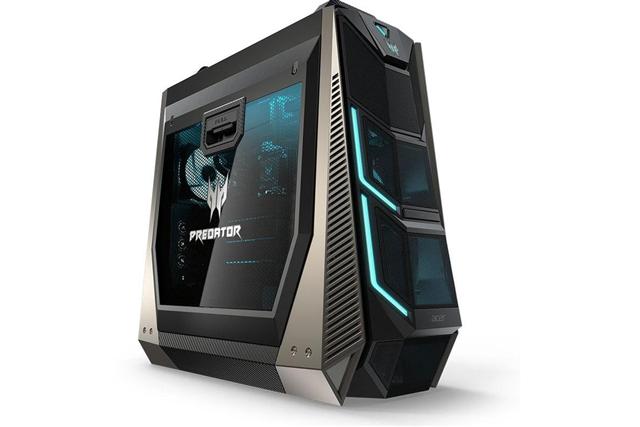 Acer has announced its premium Predator Orion 9000 series gaming desktops with Windows 10. The Predator Orion 9000 series feature a black-and-silver spacecraft-like exterior with customizable RGB lighting along the sides of the front bezel. A side window panel showcases the interior with a design that keeps electromagnetic interference (EMI) levels in check despite the size of the opening, according to the vendor.
Optional fans with customizable RGB lighting create a virtual light show. Outfitted with two handles and wheels covered with a carbon fiber pattern, the new rigs can be moved from one location to another. Tool-less side panels make component upgrades easy and the push-open top gives users a quick way to switch fans, according to Acer. A front-access headset cradle and cable management help keep the game area tidy.
The Predator Orion 9000 series feature liquid cooling and Acer's IceTunnel 2.0, which is an advanced airflow management solution that separates the system into several thermal zones, each with an individual airflow tunnel to expel heat. Huge metal mesh panels on the front and top allow more cold air in and the rising hot air of the liquid-cooled CPU out, while up to five 120 mm fans in the front, top, and back channel cool air through the chassis. Part of the airflow is redirected towards the back of the motherboard tray to cool the storage devices. The graphic cards feature blower-style fans to drive the heat out from the back, while the PSU is self-contained to avoid thermal interference.
The series is equipped with AMD's latest Radeon RX Vega graphics, with the capability to support up to 4 Radeon RX Vega cards. Gamers also have the option of two Nvidia GeForce GTX 1080Ti cards in SLI, which support virtual reality. The Predator Orion 9000 will offer up to Intel Core i9 Extreme Edition 18-core processor and up to 128GB quad-channel DDR4 memory.
This will be showcased at IFA 2017 in Berlin, Germany.