30 news items tagged Supermicro
Global shipments of servers are estimated to contract 5.6% sequentially in the third quarter of 2020 due to a deceleration in demand for cloud servers from datacenter operators and...

Second-quarter 2020 global server shipments enjoyed a strong growth thanks to soaring demand for cloud computing services and from the work-from-home (WFH) segment in addition to...

Supermicro, a major provider of servers, storage and networking solutions, has seen its business unscathed by the coronavirus pandemic, and is doubling down its efforts to prepare...

Taiwan is set to become a new manufacturing hub for servers, as Supermicro, Quanta Computer, Wiwynn and others as well as related components makers are fast expanding production capacity...

According to Digitimes Research's statistics and analyses, first-quarter 2020 global server shipments are estimated to come to 3.65 million units, representing a 16.9% on-quarter...

Global server shipments went up 13.4% sequentially in the fourth quarter of 2019 thanks to rising demand from US large datacenter companies and China's server market. However, shipments...

Memory modules specialist Orient Semiconductor Electronics (OSE) is expected to see its September revenues hit an all-time high for the third consecutive month, driven by a pull-in...

Supermicro, a first-tier server vendor worldwide, has been aggressively developing gaming-related products with its experience from the server business. Supermicro is able to offer...

US-based server maker Supermicro has just held a groundbreaking ceremony for a new 800,000-square foot plant in Taiwan, and is also expanding its Silicon Valley headquarters.

Taiwan-based ODMs have been competing for datacenter server orders for 2019. Wiwynn will have a chance of landing orders from Amazon in the second half of 2019, joining the client's...

Innodisk, a Taiwan-based provider of industrial embedded flash and DRAM solutions, is joining forces with its four subsidiaries and cooperative partners such as SuperMicro to build...

Taiwan-based server motherboard makers are likely to be required by their clients to accelerate their plans to move production back to Taiwan or other sites outside China, according...

NVMe (non-volatile memory express) is growing exponentially in application to server and storage solutions, with its adoption volume estimated to expand by three-folds in 2018 over...

Computex has added two new themes to the 2018 edition in response to some of the hottest trends in the tech industry: 5G and blockchain - along with the mainstays that have been featured...

The time for GPU computing has come, and such computing is accelerating the development of AI (artificial intelligence), with demand for GPU computing power to see a 100-fold increase,...

Having completed phase-one construction for its Asia Pacific Technology Park in Taoyuan, Taiwan, US-based Supermicro is now planning for a phase-two construction project, which is...

Taiwan Semiconductor Manufacturing Company (TSMC) has reportedly shifted its server procurement orders for the second half of 2017 from the original supplier Lenovo to Supermicro...

Supermicro, originally a maker of server motherboards, has been gradually evolved into an own-brand server product provider. The server market promises significant growth, thanks...

Super Micro Computer, Inc. (NASDAQ: SMCI), a global leader in compute, storage, and networking technologies and green computing is introducing an extensive range of next-generation...

US-based server vendor Supermicro has entered the brand gaming motherboard market with its new Supero brand and released a series of products recently. The company has been pushing...

Taiwan-based InnoDisk, which develops and manufactures industrial-class storage products, has disclosed the company is partnering with NAND flash chip vendor Toshiba and Super Micro...

Super Micro Computer (NASDAQ: SMCI), a global leader in high-performance, high-efficiency server, storage technology and green computing announces complete server and storage rack...

Over the past 10 years the commercial computing market has been enamored with the idea of being able to move data and heavy computation to a central resource, where it can be accessible...

Supermicro Computer, a global leader in high-performance, high-efficiency server, storage technology and green computing, has continued to expand its server and storage rack solutions...

Super Micro Computer, Inc., a global leader in high-performance, high-efficiency server, storage technology and green computing, announces that it has signed an agreement with San...
Related photos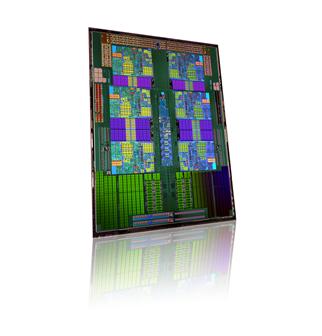 AMD Opteron 4000 series processor
Photo: Company, Thursday 29 July 2010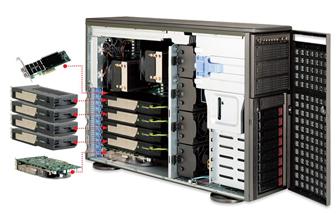 Supermicro 7046GT-TRF workstation
Photo: Company, Tuesday 18 August 2009
Related news around the web