Enabling next-generation mobile phone and tablet peripherals
Sponsored content
According to a Canalys report in 2012, 488 million smartmobile devices were shipped in 2011 with 48.8% of them running Android and 19.1% iOS.
From the fourth quarter of 2010 through the fourth quarter of 2011, the global growth rate of smart mobile devices was 62.7%. The growth of Android devices was 244.1%, the highest, followed by 183.1% of Bada and 96.0% of iOS.
According to Microchip, it is ABI Research's view that the explosive shipment growth of smart mobile devices boosted the 2010 global revenue of aftermarket peripherals to US$26.5 billion. According to a Microchip forecast, the market of Apple accessories and peripherals amounts to about US$10 billion with a compound annual growth rate (CAGR) of 15%.
Lifestyles to be changed by various smart mobile devices
According to Chuck Li, Regional Sales Manager of Microchip, various daily applications for businesses, homes, hospitals, and vehicles have a close tie with smart mobile devices, which enable daily office work, entertainment, financial transactions, location-based services, remote control and remote home care. There is no doubt that the smart functions associated with such applications will have a strong influence over the direction and growth of the global market of peripherals.
Li stressed that ongoing launches of smart mobile applications are new opportunities for peripheral manufacturers to create their products that strengthen the existing mobile devices. These products, for example, include home care systems combining monitoring and sensing functions, ticket devices that provide certification and payment functions, exercise or medical equipment, and payment tools. "Smartphones and mobile peripherals have become a 'lifestyle hub' that helps us interact with the world in a way unimaginable in the past," said Li.
Various key functions built in on smart peripherals have close interaction with mobile applications and can create very unique user experiences. "Different applications, however, require different key functions provided by smart peripherals," said Li.
Devices with e-wallet or POS applications must have encrypted computing and password protection built in for both data and hardware security. As to the peripheral for exercise equipment, motion sensing and advanced analogue functionality are required for accurate movement measurement. Speaker peripherals should support multiple audio compression formats and audio effects while amplification is also indispensable.
"Correct identification of the key functions that smart peripherals should have enables a good understanding of hardware specs and helps design optimized microcontrollers as well as other system parts and components," said Li.
Rapid growth of mobile devices primarily driven by applications and peripherals
Based on the aforementioned, smart peripherals have become one of the key factors to attract consumers but pose many challenges to manufacturers, which have to factor in complicated product diversity issues during product design. Therefore, the high quality of product design as well as the best user experience can only be ensured by hardware and software integration of key functions, network and peripheral connectivity, power efficiency, firmware libraries, operating system support, and various applications.
In terms of network or peripheral connectivity, as external communication of smart devices relies on interfaces, how many interface specs can be supported by peripherals is the most important consideration during product design. "Either wireline interfaces or wireless interfaces have their pros and cons," said Li. "Therefore, product design had better decide the interface specs to be supported based on the habits of target users, how complicated design is, power consumption, bills of materials (BOM), etc."
Challenges and complicated considerations despite design options and specs
USB interfaces, for example, can be found on iPad. Android tablets, iPod, Android phones, and various mobile devices for their connectivity with massive storage devices, CDC devices, human interface devices, audio devices, etc.
"The latest USB 3.0 supports a data rate up to 5Gbit/s, but most smartphones and tablets retain the old USB 2.0 because of higher costs of the USB 3.0 chip per se, peripherals, and the circuit board to go with USB 3.0," said Li. "As a result, some new devices have compatibility issues." Moreover, the master/slave architecture of USB in the past only enabled the master to set up schedule connection and transmit data while peripherals could only passively respond to the master. "This has been improved by new generation peripherals' USB OTG support, but many old devices still support the old operation mode," said Li when reminding manufacturers to pay attention to the issue during new product design.
Regarding the RF design for devices, there are two options: the module and chip-down. Module accelerates time to market, and design can be completed with only some knowledge of RF, according to Li, but additional certifications are required and cost effectiveness can only be achieved when output is not high. "Chip-down, on the contrary, requires RF professionals' participation as well as many RF tests and certifications, but mass production can reduce the cost to the lowest."
Power sources for peripherals have a similar issue. Cell phones and tablets can use A/C chargers and do without batteries, but extra design is required in order to convert A/C into D/C. The extra design cost can be saved by using batteries to do without any extra space for circuits, but maintaining battery voltage stability can be difficult.
Annoying development simplified by Microchip Development Kit
Should firmware library support to different operating systems be considered? Can the latest operating system specs be met? Is automated detection and network connection possible? Are simple APIs and automated initialization available? Can firmware libraries be updated?
According to Li, seeing that peripheral manufacturers have many complicated considerations during new products design, Microchip has integrated various needs of field application engineers and design houses around the world to provide rich XLP PIC MCU supporting many Android and iOS development kits. Therefore, the fastest time to market of general-purpose peripherals, digital audio speakers, as well as MIDI synthesizing, sound mixing, Bluetooth and Wi-Fi devices will be possible.
Microchip Firmware Libraries is royalty free while supporting the latest Android and iOS by providing automated detection, network connection, and initialization as well as boot-loading and digital audio support. As a result, manufacturers are free from many inconveniences that they would otherwise have to resolve by themselves.
Various Microchip Development Kits provide flexible product development options, e.g., Simple Accessory with IR or 8-bit Development Kits for simple peripheral development, and MIDI Accessory, MIDI Synthesize, and PIC32 Sound Mixing for sound mixing product design.
It is Li's recommendation that peripheral manufacturers' new product R&D should follow "the most appropriate OS development licensing," such as Apple's MFi, and then select suitable MPLAB X IDE/XC Compilers, OS Libraries, PICkit, MPLAB ICD, or MPLAB REAL ICE debugger/programmer based on different OS and MCU requirements in order to gain complete support.
For further understanding of the resources of smartphone peripheral development provided by Microchip, please visit http://www.microchip.com/smartphones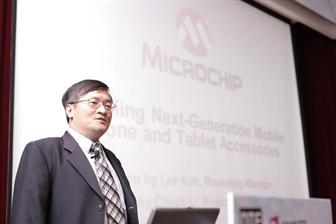 Chuck Li, Regional Sales Manager, Microchip Technology
DIGITIMES' editorial team was not involved in the creation or production of this content. Companies looking to contribute commercial news or press releases are welcome to contact us.