Interview with AZZURRO Semiconductors CEO Erwin Wolf: Mass production of 200mm GaN-on-Si wafer will drive significant shift of LED market
Sponsored content
Thursday 20 December 2012
With excellent cost advantages, GaN-on-Si technology has become a new focus in the LED market in order to cope with the severe price pressure for LED makers. In recent years, this technology has made significant progress and will soon move into commercial production to grab the market of long-term dominating sapphire substrate technology.
German-based AZZURRO Semiconductors, which has patented large-diameter GaN-on-Si technology, already sets up a 150mm manufacturing site in Dresden starting 24x7 operations. With advances in its 200mm technology, the company will begin ramping up of 200mm wafers by 2H13 or 1H14. Erwin Wolf, CEO of AZZURRO, believes that within two to three years, LED market will rapidly and significantly have been shift to GaN-on-Si technology.
Though GaN-on-Si has significant advantages, the technical challenges have made it difficult so far to be widely adopted in LED market. "AZZURRO's patented strain engineering technology can control the thickness uniformity of GaN film and the wafer bow, as well as achieve high crystal quality, which are all important to the performance of manufacturing LED devices", Erwin Wolf said.
He emphasized that, take the 150mm wafers that are already in mass production as an example, the thickness of GaN layer is over 6µm and wafer bow is below 20µm. Therefore, it can utilize existing standard CMOS production line for the chip manufacturing process. Silicon is easier to be removed than sapphire, so that it can not only shorten production cycle, but also achieve better yield.
Regarding AZZURRO's 200mm wafer technology, "We can achieve the same performance in terms of bow, thickness, and crystal quality as those in 150mm. In addition, 200mm wafer can have extremely high emission wavelength homogeneity, which will be able to reduce the binning efforts when manufacturing", Erwin Wolf indicated. At present, AZZURRO can offer 200mm wafer samples to customers.
AZZURRO's factory in Dresden has already been in full operations since this year, with area of 1500mm2 and two 150mm MOCVD production lines. One is dedicated for LED wafers and the other for power semiconductor wafers. AZZURRO plans to mass produce 200mm wafers by 2H13 or 1H14.
"Our business model is to provide GaN-on-Si wafers for customers to fabricate their own LED or power semiconductor devices. We will not manufacture end devices", Erwin Wolf said, "Though there are other companies offering GaN-on-Si wafers for power semiconductor, but AZZURRO is the only company that offers also GaN-on-Si wafers for LED."
As GaN-on-Si is gaining momentum in LED market, those who invest in this technology are IDM makers, which will use GaN-on-Si technology for in-house only. Currently, no company provides GaN-on-Si LED wafer technology. "Therefore, for those LED makers who don't have in-house GaN-on-Si wafer, AZZURRO's technology will be the best solution for them to address the emerging trend in LED industry", Erwin Wolf stressed.
For LED applications, AZZURRO provides two products: LED wafer and LED template. Erwin Wolf explained that LED wafers can be used straight away to produce LEDs, while LED templates are silicon substrates with grown GaN layer by AZZURRO. Customers can facilitate their in-house designed LED MQW structures. Because of business and intellectual property considerations, most customers prefer LED template model. And AZZURRO will provide complete development kits for them to shorten development cycle of LED template.
For example, AZZURRO just announced in October that Taiwan-based Epistar has successfully migrated its LED structures to AZZURRO's 150mm GaN-on-Si LED templates. Regarding this joint project, Erwin Wolf said, "Of course, there are lots of challenges to overcome, and there are many process parameters that we haven't thought of before. This learning process can help us avoid mistakes next time and help customers smoothly transfer to GaN-on-Si substrate with our application notes and engineering supports."
AZZURRO aims to enable the migration of LED market to GaN-on-Si technology. As 200mm wafer technology gets ready, Erwin Wolf said, "When the industry can achieve mass production of 200mm wafer with CMOS process, the cost effectiveness of GaN-on-Si will stands out, and then the whole industry will move to this emerging technology quickly."
However, before this goal is achieved, AZZURRO's important job right now is to enable the mass production of 200mm wafer. "We are now talking with several foundries, hoping to jointly develop 200mm wafer mass production technology. There are lots of idle 200mm capacities that can be utilized. Since these equipments are already fully depreciated, with these equipments and existing infrastructure, we can speed up the mass production of 200mm wafer," Erwin Wolf stressed.
Meanwhile, in respond to future expansion plan, AZZURRO will have capital expansion plan next year, right now the company is aggressively talking with different parties about the investment plan.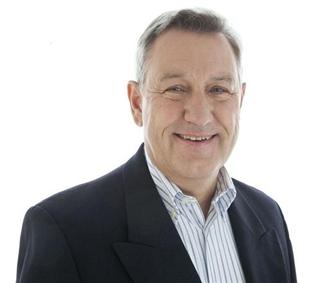 Erwin Wolf, CEO of AZZURRO Semiconductors AG
DIGITIMES' editorial team was not involved in the creation or production of this content. Companies looking to contribute commercial news or press releases are welcome to contact us.