Trends and challenges for the development of multiple platforms for mobile devices in 2013
Sponsored content
Monday 29 April 2013
Digitimes celebrated its 15th anniversary by holding a technology forum, titled "Trends and Challenges for the Development of Platform Architecture for Diversified Mobile Devices in 2013," at the Taipei International Convention Center on March 21.
Presiding over the symposium, Digitimes president Colley Hwang offered his view on the global technology development in a keynote speech. Joanne Chien, senior analyst and director at Digitimes Research, was also present at the event offering her insights into the latest market trends. Officials from the Industrial Development Bureau (IDB) of the Ministry of Economic Ministry (MOEA) gave an introduction to the supply chains of Taiwan's handset and tablet industries as well as the major tasks the Taiwan government is undertaking to promote the industries.
Participants also included world-famous companies, including Intel, Digital Theater System (DTS), Dialog Semiconductor, STMicroelectronics and VIA Labs. These companies also showcased their latest solutions for mobile devices at the forum.
In his keynote, Hwang urged Taiwan to continue pursuing innovations and refine its strategies. Taiwan should build up a mutual support system among its supply chains, since no Taiwan industry player is able to have control over software, hardware and content at the same time through unified platforms such as those run by Apple, Google and Microsoft. Taiwan needs to create innovative applications and new values to lift the selling prices and gross margins of end-market products.
Utilizing Taiwan's advantages gained in a number of industries, including flat and touch panels, battery packs, chassis, PCBs and camera modules, and basing on a guideline for industrial development till 2020, the IDB will actively promote the development of application processors, AMOLED and high-end panels, enhance the formation of industrial supply chains, and assist local companies to develop related applications, said Jang-hwa Leu, deputy director general of the IDB.
Leu noted that the government also aims to complete the infrastructure and testing environment for next-generation telecommunication services, to form an intellectual property (IP) fund or company, to enhance the deployment of key patents, and to build up a mobile device industry with a production value of NT$1.68 trillion (US$56 billion) and 150,000 employees by 2020.
Vincent Ting, director of account management at DTS, pointed out that DTS has been committed to bringing the cinema-grade high-fidelity surround sound to tablets, smartphones and other connected mobile devices through cooperation with upstream and downstream suppliers. Taiwan-based mobile device makers should not confine their efforts only to hardware competition, and instead should strive to offer excellent user experience, and create innovative value, Ting added.
Meanwhile, Dannie Lau, general manager of Phorus, a subsidiary of DTS, indicated that Phorus has been offering Play-Fi technology to enable Windows and Android users to download applications through GooglePlay for access to multiple-room, multiple-user wireless synchronized sound transmission.
Grace Wang, field application and support team director at Intel APAC, emphasized that Intel has been delivering advanced semiconductor technologies and low-power, high-performance processors for ultrabooks, utilizing its effective and innovative R&D capabilities. Intel has also delivered powerful platforms for tablets, smartphones and other mobile devices enabling efficient web browsing/video playback, as well as helping Taiwan makers to deliver innovative and diversified user experience.
Mark Hopgood, strategic marketing director at Dialog, pointed out that since the current projected capacitive touch technology has not yet extended its applications to large-size display products, Dialog has optimized its FlatFrog PSD technology to roll out touch solutions that deliver the same performance as projected capacitive technology and support Windows 8 multi-touch requirements. Dialog's touch solutions are also applicable to AIO PC systems in the 11- to 36-inch size range, and the touch functions can be performed with gloves on, styluses and other objects.
ST has been promoting technology integration for multi-axis sensors, and currently has a total of 12 wafer foundry/packaging houses capable of rolling out four million sensor chips per day in more than 60 designs, said Chiung Lee, senior technical marketing engineer of analog, MEMS and sensors at ST. Having already shipped over 2.5 billion MEMS sensors and obtained more than 600 related patents, ST also offers clients SiP packaging technology for the development of more MEMS applications.
Quen-Zong Wu, managing director of the data communication business group at Chunghwa Telecom (CHT), described cloud application systems as the most important infrastructure enabling access to computing resources anytime, anywhere through diverse display products including desktops, notebooks, tablets and smartphones. CHT assisted the production of the movie, "The Life of Pi," with services from its Cloud for Animation and Visual Effects (CAVE) center, a joint venture it set up with special effect specialist R&H. Through CAVE, R&H's animation experts in Vancouver, Los Angles, Mumbai, Hyderabad and Kuala Lumpur were able to conduct back-end production and computing for the movie on the same platform. This indicates that the integration of diverse display applications will enable the development of innovative business models to offer big data computing and other smart services, Wu added.
Ching-Fuh Lin, a professor from National Taiwan University, pointed out that Taiwan accounted for 17% of global production of US$400 billion worth of photonics and optoelectronics products in 2011, with its solar energy, power-saving lighting and display industries having competitive advantages. However, to sustain the development and expansion of large-size and 3D displays, e-paper and other portable display devices, Taiwan makers need to have control over key technologies and discrete components for the development of new products such as roll-to-roll displays and transparent transistors. Lin also suggested Taiwan makers develop new fluorescent technologies without the use of rare earth, as well as new epitaxial wafer production equipment to enhance the competitiveness of Taiwan's LED industry.
Digitimes Research senior analyst and director Joanne Chien urged Taiwan makers to also pay attention to the competition triggered by the rise of China-based white-box suppliers, in addition to the fierce price war among mobile device vendors. Chien also pointed out that Google, having made headway in the smartphone and tablet industries with Android OS, is also trying to enhance its presence in the notebook segment with its Chromebook. Google's cooperation with Hewlett-Packard (HP), Lenovo and Acer for the launch of low-priced Chromebooks is likely to accelerate the downward adjustments of mobile device prices, Chien commented.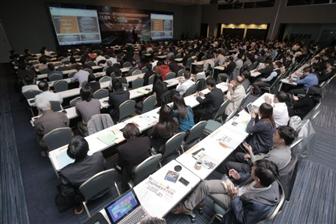 The DTF 2013 Ultra Mobile & Ecosystem Forum attracts almost 800 participants