Multi-touch applications in PC and mobile devices
Sponsored content
Tuesday 30 April 2013
Mark Hopgood, corporate business development director at Dialog Semiconductor, emphasized that current projected capacitive touch technology have a limited penetration into large-size display products. Dialog has developed a multi-touch integrated circuit (MTIC) enabling FlatFrog's patented planar scatter detection (PSD) touch technology to roll out multi-touch solutions into consumer devices such as Ultrabooks, all-in-one (AIO) PCs and monitors delivering the same performance as projected capacitive technology and supporting Windows 8 multi-touch devices.
Dialog, a Frankfurt-listed fabless semiconductor company, managed to ramp up its revenues from US$86.8 million in 2007 to US$774 million in 2012, representing a CAGR of 55% in the five-year period. The growth momentum continued driving revenues up to US$774 million in 2012. Dialog has been focusing on energy saving technologies and delivering analog/digital mixed signal IC devices, including the industry's highest integrated power management ICs (PMICs), ultra-low power audio codecs, short-range wireless ICs and multi-touch ICs.
While branded PC vendors and software developers have been promoting the adoption of multi-touch applications to make them standard features of PC systems, multi-touch solutions have so far been found mainly in high-end Ultrabooks or AIO PCs priced more than US$1,000, because the prices of multi-touch solutions available today are still too high. As a result, the industry needs cost-effective multi-touch solutions to enable the roll-out of Ultrabooks or AIO PCs priced around US$600 to usher multi-touch functions into the mainstream segment in volume, Hopgood remarked.
As forecast by a number of market research firms, including Digitimes Research, Arete Research and DisplayResearch, shipments of ultra-slim PCs (Ultrabooks and other notebooks with a thickness below 21mm) are expected to grow from 12 million units in 2012 to 32 million in 2013, 73 million in 2014, 115 million in 2015, and 170 million in 2016 – a vast market where Dialog is eyeing to make a strong presence, Hopgood indicated.
Dialog has recently announced its DA8901 Smartwave infrared MTIC solutions designed to bring cost effective, premium multi-touch to mainstream Ultrabooks, notebooks, AIO PCs and monitors.
While there are already a number of touch technologies available in the market, including resistive, acoustic, imaging and capacitive types, Hopgood described DA8901 as the world's first touch chip enabling FlatFrog's PSD in high-volume consumer electronics. Using in-lens infrared light, the FlatFrog PSD touch system can detect and track multiple touches, gestures and pressures from gloved hands, styluses and other objects, providing a more natural true-touch user experience at performance levels surpassing the latest capacitance-based solutions, but at a fraction of the cost.
While the analog resistive touch technology is able to deliver cost efficient solutions for a variety of devices, the technology has gradually lost its appeal because it is unable to support multi-touch applications and its transmittance is rather limited, Hopgood indicated.
Although the acoustic touch technology delivers solutions with a high degree of transmittance, it supports only up to two-point touch applications and its sensitivity will be affected if the surface of the screen is contaminated, said Hopgood.
Projected capacitive touch solutions currently serve as a standard for smartphones due to its durability, dust-proof and stain-resistant capabilities, and bezel-free designs. However, projected capacitive touch solutions still need a layer of ITO conductive glass. Their production costs will skyrocket and yield rates drop when the solutions are applied to displays over 11 inches.
Optical touch solutions support up to five-point touch applications, with 100% transmittance. But the need of overhead cameras and reflective baffles at the edge calls for an increase in the thickness of the display with the inclusion of a bezel. Additionally, the durability, and the dust- and contamination-resistant capabilities of optical touch sensors still need to be improved, Hopgood commented.
Unlike projected capacitive touch technology, FlatFrog PSD touch featuring Dialog's MTIC solutions provide full edge-to-edge bezel-free industrial design with 100% transmittance because there are no expensive ITO layers to impede the light from the display reaching the eye. This also means the screen's backlighting does not need to be driven as hard to achieve the same brightness level, which will help save power.
Supporting up to 40 simultaneous touches, the MTIC is able to detect changes in infrared light coming into the cover lens of the display. As users touch the glass surface, scattered light is detected by multiple infrared receivers. The resulting signals are received by the MTIC where they are amplified and pre-filtered before being converted to the digital domain. The data is then subjected to advanced signal processing using the MTIC's integrated detector engine, which enables the touch system to ultimately provide touch co-ordinates to the main device processor.
Additionally, FlatFrog PSD touch works with glass or plastic cover lenses, eliminating the need for expensive ITO layers. It uses standard low-cost components and high-yielding assembly processes to provide superior multi-touch at a lower cost compared to projected capacitive touch solutions.
A single MTIC, available in 5.7mm by 5mm 59pin aQFN packaging for ultra-narrow PCB design, can drive up to 12 infrared LED/emitter pairs directly. A typical Ultrabook, tablet or AIO PC would contain a number of MTICs configured in a master/slave arrangement catering for a flexible number of screen sizes up to 36 inches.
Dialog will begin shipping an engineering version of its Smartwave multi-touch chips to clients in summer of 2013 with volume shipments slated for a quarter later. The company also expects the first wave of AIO PCs built on PSD-based infrared multi-touch solutions to hit retail channels in early 2014, Hopgood concluded.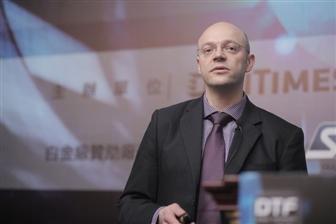 Mark Hopgood, corporate business development director at Dialog Semiconductor