Enriching multiple MEMS applications for mobile devices
Sponsored content
Thursday 2 May 2013
STMicroelectronics, the largest semiconductor company in Europe, has been promoting the integration of multi-axis sensor technology to enable innovative MEMS applications for the growing number of multi-platform mobile devices, according to Chiung Lee, senior technical marketing engineer of analog, MEMS and sensors at ST.
ST currently boasts a total of 12 wafer foundries and 48,000 employees globally, including 11,000 R&D personnel. The company posted revenues of US$2.16 billion for the fourth quarter of 2012 and a total of US$8.49 billion for the year.
ST focuses on five major target segments: MEMS sensors, smart power supplies, automotive products, microcontroller units, and digital consumer and application processors.
ST has pioneered the through-silicon via (TSV) technology for the production of smaller MEMS chips, with accumulated shipments reaching 5.5 billion units, including three billion motion/proximity MEMS sensors and 2.5 billion inkjet heads for temperature-controlled inkjet printers.
ST applies to a dual-sourcing approach to allocate its production lines, including the establishment of 6- and 8-inch MEMS foundry houses in Agrate, Italy and Singapore, the set-ups of advanced front-end IC assembly plants in Rousset and Crolles in France, and the installation of packaging lines in Kirkop in Malta and in Calamba in the Philippines. The strategy aims to assure a daily production capacity of four million MEMS chips worldwide.
ST is the first MEMS semiconductor supplier to have its revenues surpass the US$1 billion mark, taking the top rank in consumer electronics products and handset segments, according to data compiled by Yole and HIS iSuppli. The company currently accounts for a 51% share of accelerometers used in the smartphone sector and takes up a 78% share of the gyroscope market. The company has also managed to ramp up sales of motion and MEMS sensors from US$30 million in 2006 to US$650 million in 2011 and further to US$770 million in 2012.
ST's gyroscopes have been widely adopted in the smartphone and tablet sectors since 2010, and the company has also extended its offerings to include 9-axis sensor devices, dual-core gyroscopes, 3-axis accelerometers, 3-axis gyroscopes as well as magnetometers and pressure sensors.
The first wave of commercialization of MEMS sensors began with the launch of Nintendo 3DS gaming consoles, with notebooks, DSCs, smartphones and tablets following soon after. Looking at share by operating system, ST's sensor solutions account for 75% of sensor applications in the iOS-based smartphone and tablet sector, 31.4% in the Android OS segment and 54.4% for the Windows platform.
ST's introduction of its iNEMO-architecture solutions integrating a 3-axis gyroscope, a 3-axis accelerometer and a 3-axis magnetometer has been further extended to sensing applications to include image stabilization, remote-control, augmented reality, sports activities, navigation and location based service (LBS).
The third wave of MEMS product adoption will come at the time when MEMS micro-sensors begin to find their way into watches, refrigerators, beds, toys, clothes, among others.
ST offers different types of MEMS sensors for entry-level, midrange and high-end smartphones, separately. For example, the 3-axis LIS3DE, LIS3DH and LIS3SDH are for entry-level models and the LSM303DLHC and LSM303D plus iNEMO-based compass software are for midrange to high-end models, while 9-axis integrated sensors, or 9-axis iNEMO-M1 modules and iNEMO SiP chips are ideal for flagship models.
ST also supplies L3GD20H+LSM303D and LSM330+LIS3MDL integrated sensor chips for optimized performance. The company has also begun volume production of its 6-axis LSM330DLC sensor chips, which integrated a 3-axis accelerometer and a 3-axis gyroscope.
Summing up, Lee revealed that ST is currently offering more than 60 sensor products and has shipped over 2.5 billion market-proven MEMS sensor devices. Backed up by over 600 related MEMS patents, ST has also been cooperating with software developers to further enrich MEMS applications.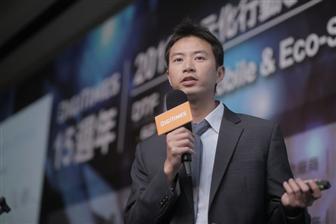 Chiung Lee, senior technical marketing engineer of analog, MEMS and sensors at ST