Digitimes Research: Market trend for mobile devices in 2013
Sponsored content
Monday 6 May 2013
Global shipments of smartphones, tablets and notebooks are expected to top 1.3 billion units in 2013, with smartphones and tablets accounting for more than 85% of total shipments and the ratio of notebooks continuing to scale down, according to Digitimes Research. However, price competition in the smartphone and tablet sectors will become increasingly fierce as the focuses of the two segments are trending toward production of models for mass market instead of the high-end sector.
Since the global industry ecosystem has changed profoundly due to the overlapping functionalities and market boundaries of mobile devices, Taiwan-based ODMs should also pay close attention to the competition triggered by the rise of China-based white-box makers, particularly by their efforts to build up their brand names, said Joanne Chien, senior analyst and director at Digitimes Research.
Traditionally, tablets and notebooks are categorized into the mobile computing market, but tablets and e-book readers are categorized as mobile reading devices. Furthermore, tablets, notebooks and smartphones are all included in the mobile connected device sector, noted Chien, adding that the three categories of products have continued to maintain sustainable growth in today's ICT industry.
For the global mobile connected device market in 2013, shipments of smartphones are expected to reach 882 million units of total shipments for the segment, while shipments of tablets will exceed 250 million units and notebook shipments are likely to decline 5-10% to less than 190 million units, Chien estimated.
Prior to the rise of the tablet in 2009, it is worthy to note that notebooks and smartphones accounted for 48% and 52%, respectively, of the global mobile connected device market.
Although it is generally perceived that the growth of notebooks has reached its peak - making notebooks mature products, the rise of the Android OS may reignite the notebook industry, Chien commented.
Chien believes that there is room for further development of Android-based smartphones and tablets, although Android smartphones and tablets are likely to account for 70% and 60% of global shipments of smartphones and tablets, respectively, in 2013.
Taking the shipments of iPads and iPhones for example, the shipment ratio of the two product lines stood at 30:70 in 2011, and the ratio changed to 33:67 in 2012. However, the shipment ratio of Android tablets and smartphones is estimated to reach 19:81 in 2013, indicating that Android tablets have potential for further development, Chien added.
However, dominating the smartphone and tablet markets seems still not enough for Google since the Internet search engine giant has not yet taken over the helm of the PC computing segment. While Google Chrome has become a popular search engine, the operations of Chrome still lack flexibility as the search engine is mostly set on operation systems run by rival companies. Additionally, Google is also facing increasing competition in its core business, as Microsoft and Apple have also stepped up efforts to develop their own search engines and other Internet related services.
Given that Google's core business is centered on back-end cloud computing basic infrastructure and applications, the company is believed to be planning to have a strong presence in the notebook industry as application-centric notebooks are expected to contribute more in terms of revenues and profits for Google compared to tablets and smartphones, Chien said.
Google has adopted two tactics to penetrate into the computing industry - firstly, with the launch of Chromebook, said Chien. "Since the launch of Chromebook in 2010, Google has stepped up its efforts, and various Chromebook iterations have begun to proliferate in 2013."
Although Android has yet to enter the notebook market officially, a number of design-in projects have begun since 2012, said Chien. "However, some situations have changed since Google announced plans to integrate its Chrome and Android teams, and it is believed that Google has delayed plans for the development of Android notebooks. But Google definitely will bring out alternative projects," she added.
Google has also shifted away from the low-price approach it adopted initially to promote the Chromebook. It rolled out a touch-enabled Chromebook with a price of US$1,449 in February 2013 targeting the high-end segment. The launch of US$1,299-1,449 models indicates that Google is expanding its notebook portfolios with different sizes and prices.
Currently, Google is cooperating with Hewlett-Packard (HP), Samsung Electronics, Lenovo and Acer for the production of Chromebooks. Among those hardware partners, HP has already launched a 14-inch model and is likely to roll out another 13-inch model priced at less than US$350 in the second half of 2013.
Samsung focuses on the production of 12-inch Chromebooks currently, and is expected to launch models in the 13- to 14-inch segments in the second half of 2013.
The low-price tactics adopted by Google previously has nevertheless accelerated the downward adjustment of the price of mobile devices. With the exception of notebooks, prices of other mobile devices have been declining at a rate faster than traditional PC systems. Taking smartphones for example, the maturing of the supply chain in white-box industry, the rise of emerging markets combined with the fact that smartphones have accounted for over 50% of the total handset market, have made smartphones a mass-market device. Consequently, prices of iPhones are also facing downward pressure.
Price cutting in the tablet sector will become more apparent in 2013 due to factors including a continued drop of price setting at Apple, Microsoft and Amazon, the availability of US$99 models from some brands, the increasing popularity of 7- to 8-inch models, and the maturing of white-box products.
Meanwhile, the failure of Microsoft Windows 8 to stir up replenishment demand for notebooks has also driven notebook prices downward, Chien said, adding that prices of touch-enabled Windows 8-based ultrabooks are also too high to attract consumers. However, a low-priced touch-enabled model launched by Asustek Computer in the fourth quarter of 2012 has been well received by the market. Other vendors are expected to follow suit in 2013.
Notebook vendors will also see the replacement effect of tablets for notebooks further expand if the prices of tablets continue to drift lower. Additionally, a possible price cut for models below 12-inch by Microsoft will also add more price pressure on notebook brands.
According to a survey conducted by Digitimes Research, the BOM (bill of materials) of the lowest-priced smartphones stood at US$30 in the first quarter of 2013, with the BOM likely to drop at a rate of US$5 quarter on quarter during the rest of the year. "The price of smartphones has dropped to the lowest possible levels in the white-box market, but the price war will continue in 2013 due to the ever-changing ecosystem," Chien stated.
On the other hand, the entrance of newcomers into the processor market for tablets is also expected to trigger price-cutting competition in the tablet sector in 2013. For example, MediaTek has begun shipping application processors for tablets to Lenovo and Acer and may also add other branded vendors such as Amazon and HP into its client list soon. The adoption of application processors from suppliers such as MediaTek by branded and white-box tablet vendors will heat up competition.
In the smartphone sector, the impact of the fledging smartphone industry in China on the global market will continue to expand. The ratio of smartphones shipped by China makers to total global smartphone shipments will rise to 35% in 2013 from 32% in 2012, while the entire smartphone industry is expected to grow 27.8% for the year.
Among the top-10 brand vendors, Sony Mobile Communications, LG Electronics, Huawei and Lenovo boast the highest growth potential, followed by ZTE, Samsung, Apple and HTC, while Nokia or BlackBerry might be expelled from the top-10 ranking group in 2013, leaving the position to China-based Coolpad. The inclusion of Coolpad as one of the top-10 vendors will further enhance the influence of China-based smartphone makers, Chien stressed.
Competition among Apple, Google and Microsoft will also intensify in 2013 as each of them will try to take market share from the others' territories, but the three platform operators will also stress solidification of their core businesses and play less prominent roles in the integration of software and hardware products.
The entrance of Amazon, Google and Microsoft into the tablet market has resulted in profound changes in the sector, as all three vendors have been following the steps of Apple to operate by offering hardware with a platform service. While Google takes a great portion of its revenues from search advertising, Apple has completed the integration of hardware and software through iTunes, and Microsoft is pushing sales of its Surface tablets optimizing its strong OS and software products such as Office.
However, the four platform vendors – Apple, Google, Microsoft and Amazon – have revamped their strategies since 2012 and are therefore leaving more space for hardware vendors to develop, Chien said.
The four platform vendors are expected to head in different development directions in 2013, while shifting their efforts to focus on maintaining the competiveness of their core businesses and profit sources as well – a move which is expected to ramp up competition among the four main platform vendors, Chien concluded.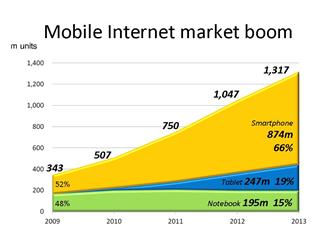 Note: Data include white-box products
Source: Digitimes Research, March 2013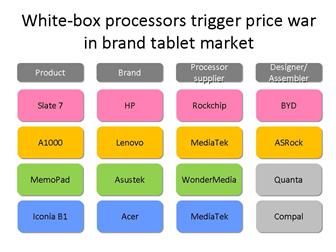 Source: Digitimes Research, March 2013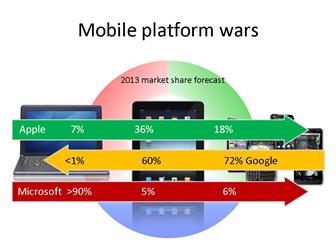 Note: Data include white-box products
Source: Digitimes Research, March 2013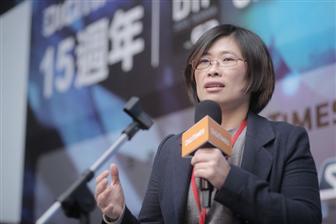 Digitimes Research senior analyst & director Joanne Chien