Apotop to showcase all innovative mobile accessories at Computex Taipei 2014
Press release
Tuesday 27 May 2014
Apotop, a Carry Technology Co. Ltd. global consumer brand (TW.3054) of wireless storage devices, will showcase the latest innovative mobile accessories at COMPUTEX TAIPEI, the Asia's largest ICT trade show, during 3rd - 7th June 2014 at I0630 Nangang Exhibition Hall 1F.
Founded in 2011, Apotop provides the most innovative product lines, encompassing MacBook accessories, wireless products, mobile accessories and so forth. To satisfy the consumers' practical need for smart handheld devices and to pursue a wireless smart life, Apotop mainly targets on the two product lines: APP-enabled products and mobile accessories, for both iOS and Android users. Moreover, Apotop also launches various accessories designed exclusively for iPhone consumers, with an optimistic outlook of smart handheld devices in the future.
Apotop i-Selfie Wireless Snapshot for iOS
"Selfie" was selected as the word of 2013 by Oxford Dictionaries, indicating that more and more consumers take snapshots by their smart phones and the trend is increasingly popular. However, phone cameras have their limitations. Examples include camera shake, caused by the pressing of the camera, or constraints on angle and distance in handheld mode. Travel photos need more than just the face in the picture. Composition and clarity matter as well. Accordingly, the Apotop launches i-Selfie wireless snapshot device for iOS users to experience an innovative way of taking snapshots.
Apotop i-Selfie's simulated volume + button design does not require an APP download and can take photos directly with an iOS integrated camera via Bluetooth 4.0. It can also be used with all camera APPs that support volume up as a shutter button. Operation is very easy. When taking a selfie while holding the phone, press lightly on the remote to easily take a photo wirelessly and avoid blurry shots due to camera shake while pressing the button. Apart from selfies, special angles such as high- and low-angle shots are no longer limited by the placement of the shutter button. Using the remote enables more flexible shooting. i-Selfie's ingenuous design combines a mobile phone stand with a remote. The headphone jack decoration design means it can be carried wherever you go, so that you can enjoy the fun of wireless snapshots anytime and anywhere.
Apotop Wi-Backup Wireless Smart Device
As smart handheld devices have now been a modern-day necessity, photo shooting and video recording gradually become part of our daily life. In order to satisfy consumers' need for multimedia data backup and sharing, Apotop launches "Wi-Backup", the 5th generation of wireless application product, combining six key functions: single-touch backup, mobile device backup, wireless streamer, two-way copy, power bank and wireless router. Through Wi-Backup, consumers no longer have to buy separate wireless hard disk. Instead, they can upgrade existing storage devices at home such as hard disk or USB flash drives with a wireless capability. A dedicated APP (support both iOS and Android system) can then be used easily to backup important data on the smart phone to existing storage devices wirelessly, making phone storage limits a thing of the past.
After snapping and recording, the following file backup and sharing would be quite annoying. Once you have Wi-Backup, simply insert your SD card and USB storage device and then press the backup button, all data on the SD card will be backed up to the USB storage device. Moreover, you no longer have to wait until you get home to upload photos. Wi-Backup allows other people to browse the data in the USB device or SD card over a phone or tablet at any time. High-speed transfer means that even high-definition videos will not miss a beat.
Regarding the need for travel or business, Wi-Backup can serve as a wireless router as well, turning a fixed network connection into a wireless hot spot for multiple devices. The internal 5200mAh high-capacity battery provides 14 hours of continuous use away from a power point. It can also be used as a mobile power bank. The 2A high current output keeps batteries topped up at all time, making phones and tablets charge faster.
Apotop president Taron Chang said, "The increasing popularity of smart handheld devices means that smart, wireless living is now all the rage. Accordingly, our mission is to develop products that enable smart devices to offer even greater convenience and to highlight our leading position of complete functional concerns on Apotop product design. In other words, Apotop aims to differentiate market positioning from our competitors by combining practically designed hardware with easy-to-use APP software."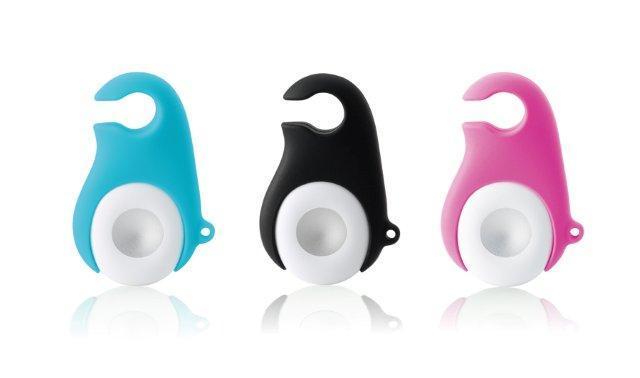 Apotop launches i-Selfie for iOS users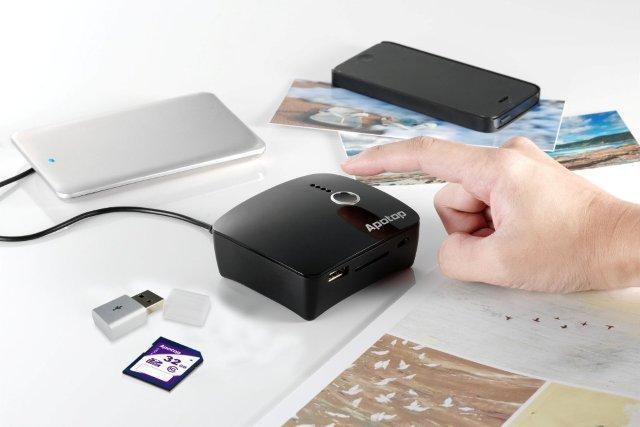 Apotop launches the 5th generation wireless smart device "Wi-Backup" (DW23)
DIGITIMES' editorial team was not involved in the creation or production of this content. Companies looking to contribute commercial news or press releases are welcome to contact us.