Notebooks and tablets declining; wearable devices and IoT driving mobile industry in 2014
Sponsored content
Monday 30 June 2014
Since Apple introduced the iPhone in 2007, the industry has clearly moved toward the direction of mobile Internet. Shipments of tablets have exceeded those of notebooks, but the tablet growth has already lost its momentum. Smartphones and emerging wearable devices are still the focus of the mobile market. Platform providers' operation strategies and business models will determine whether they can continue to play a key role in the mobile Internet and Internet of Things (IoT) industry.
iPhone and iPad set mobile Internet in motion
Joanne Chien, director and senior analyst at Digitimes Research, indicated that the development of mobile Internet device market and industry took off after Apple launched its iPhone in 2007. The iPhone competed with traditional mobile phones, as well as notebooks. The launch of the iPad in 2010 unleashed a second wave of competition between tablets and notebooks. From 3G to 4G LTE mobile communication amid the growing popularity of white-box tablets and smartphones, the entire industry has changed even more dramatically.
Digitimes Research estimates that approximately 234 million tablet computers were shipped worldwide in 2014, which exceeded the global notebook shipment volume and accounted for 20% of the mobile device market. The volume of 1.24 billion smartphones shipped this year is a clear indication where the mainstream is. Notebooks will face competition from the Intel tablet/notebook combo devices as well as the 12-inch large-screen tablets. In the future, it is possible for a smartphone to become a mobile computing center with the tablet, notebook, and keyboard serving as smartphone accessories. However, smartphones will face competition from large-screen phablets, such as the Asus Fonepad, and white-box tablets with phone call functions from China.
Samsung, Apple, Lenovo, and Sony are the big players among the world's top 20 brands of mobile devices. There are nine other Chinese brands among the top-20, with Huawei in sixth place. Taiwanese brands Asus, HTC and Acer are 11th, 14th, and 15th, respectively. Meanwhile, Taiwan brands are losing ground in the tablet and smartphone markets. The growing popularity of transformer tablets and large-screen tablets has created much pressure on Taiwan firms.
Tablet and notebook markets turn sluggish; smartphone growth remain strong with China white-box vendors rising fast
Chien indicated that the combined quarterly shipment volume for notebooks and tablets increased from 7.364 million in first-quarter 2012 to 9,764 million in fourth-quarter 2013. Tablet shipments showed a slowing growth with an annual increase of only 12.1%. The ratio of notebooks in the combined shipment volume slipped quarter-by-quarter. Meanwhile, since the second half of 2013, notebook shipment growth has been driven mainly by low-cost models.
She also pointed out that it remains to be seen whether shipments for detachable 2-in-1 tablets can break two major thresholds: 5 million units in 2014 and over 10 million units in 2015. The key is the price and size (whether 12-inch and larger models will be launched), and whether vendors other than Acer and Asus will actively invest in this area.
In terms of brand-name tablet shipments worldwide from 2012-2014, the top vendor, Apple, has seen decreases, while second-place Samsung has seen increases. The shipment volumes for third- place Lenovo and fifth-place Asus have exceeded 10 million units. The shipment volumes for sixth- place Amazon and seventh-place Acer have been stable, while fourth-place Google, eighth-place Microsoft and ninth-place HP have all seen declines. The tablet market will be dominated by the top-3 hardware brands in 2014.
Intel has stepped up its efforts, investing more in R&D, providing marketing subsidies, and reducing the prices of its processors. It is estimated that shipments for tablets that use the Intel Atom Z processors will reach 29.08 million units in 2014. Annual shipments for Windows 8/RT tablets will decline to 3.5 million units. If Microsoft cancels the Windows 8/RT licensing fees, the detachable models and the 7-inch low-cost models will gain more grounds. And Digitimes Research estimates that the shipment volume for white-box Windows tablets will exceed 9.9 million units in 2014.
In terms of smartphones, China-based brands have been rising fast: Lenovo now ranks number three, while sixth-place Huawei may make it to the top-5. China-based vendors' combined shipments - both to the domestic and overseas markets - will increase to 405.1 million units in 2014 from 23 million units in 2010. Xiaomi Technology unique online marketing has made it the number-one domestic brand in China, which has prompted other foreign and domestic brands, such as Asus, Huawei, Coolpad and ZTE, to create sub-brands specifically for the online sales. However, their online efforts have been hampered by conflicts with their distribution operations, such as pricing schemes, in physical retail channels.
The third wave of mobile Internet to be driven by wearable devices and IoT
Chien indicated that the wearable device industry and IoT will jointly lead the third wave of restructuring of the mobile Internet market in 2014. Wearable devices form a personal "Internet of You" for individual users, and its value lies on services such as the seamless, self-tracking, and environmentally integrated personal data analysis and prediction.
The key to success for the wearable industry may be down to two factors. First, the business model: vendors must design services that appeal to consumers and may have to offer subsidies for both services and hardware. Second, the personal link: wearables are devices whose appeal is built on functions and appearances, brand value and image, as well as marketing gimmicks (which, for instance, separate them from conventional electronics outlets and move them into boutique-like stores). She believes that the Google Glass and Wear, the iWatch that is expected to be launched by Apple, and other vertical integrated applications can help the entire wearable industry go beyond the electronics market.
US mobile platform operators
Chien indicated that the three major mobile platforms (Microsoft, Google, and Amazon) have their own focus: Microsoft's core business is software licensing; Google's revenues come mainly from advertising; and Amazon focuses on online retail and digital content.
In terms of business strategy, Amazon works like a combination of Google, Apple and WalMart. It has launched its own "Googlized" online shopping Android platform (Amazon.com) and related devices (such as smart TVs and smartphones). They also support other mobile device platforms, allowing its own applications or digital content marketplace to spread out across different platforms.
Google's strategy is to drive down the prices for segments that it cannot dominate, flexibly adjust the strategies for its own-brand devices at any time, and expand hardware brand vendors' involvement. It subsidizes hardware vendors or channel retailers so that prices can be driven down to boost unit sales volume. At present, Google has high market shares in the mobile phone and tablet markets, but its market shares are low in notebook, wearable device, home automation, and robot markets.
After acquiring Nokia's mobile phone business, Microsoft has built a core operation surrounding its Devices and Studios unit with support from three other major engineering departments. But Nokia still offers Android-based Nokia X series smartphones, the search engine Bing and the Here map service are still licensed to other Android device makers and the Office Mobile is still licensed to the Apple iPhone and other iOS devices. This is creating conflicts for Microsoft's mobile device and service plans.
Chien concluded that services and transformation of mobile devices have become Microsoft's new focus. Google and Amazon still focus on online advertising and online retail. On the hardware side, Microsoft remains the leader in terms of revenues generated by own-brand shipments, followed by Amazon, and then Google. Google is still leading the wearable device market; Amazon stays focused on the smartphone segment in the meantime; and Microsoft's mobile platform has lagged behind and its share remains low, which will affect its development in the wearable device market.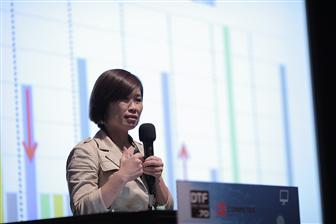 Joanne Chien, director and senior analyst at Digitimes Research