Your mobile everything ... on the big screen
Sponsored content
Wednesday 2 July 2014
People are now able to easily project their presentation slides, video streams, gaming scenes and other images from their smartphones/tablets onto a big-screen Ultra HD LCD TV and at the same have the mobile devices recharged. An IC design house mastering high frequency serial physical layer circuit design is making this possible with the emerging MHL 3.0 standard using the widely adopted micro USB connection cable in addition to the 60GHz WiHD transmission technology.
Leader in audio-visual interface technology and devices
Jim Chase, Chief Evangelist at Silicon Image Inc., started his talk by introducing his company, which was founded in 1995 in Sunnyvale, California, and publicly listed on NASDAQ with revenue of US$276.4 million in 2013. Silicon Image owns more than 1,000 patents related to video interface and is an important leader in audio/video interface technologies including HDMI, MHL, and WirelessHD (WiHD).
Chase pointed out that many members of the audience may have already been enjoying technology developed by Silicon Image. It is estimated that by 2015, more than 1.3 billion mobile devices, 400 million consumer electronics, and over 500 million personal computers will have Silicon Image's technology and devices built into their systems.
According to a report by ABI Research released in fourth-quarter 2013, 10 of the top 15 smartphone manufactures adopted the MHL interface technology, and nine of the top 10 digital TV suppliers used MHL chips. Customers of Silicon Image's MHL chips include well-known manufactures/suppliers of smartphones, tablets, LCD TVs, audio-visual devices, PC, and home electronics.
Introducing MHL 3.0 for mobile applications of multi-screen cloud service
Chase explained that MHL (Mobile High-Definition Link) is a mobile interface standard for HD display devices established jointly by Nokia, Samsung, Silicon Image, Sony, and Toshiba. An existing micro USB cable can be used to transmit 1920x1080 at 60Hz (1080p60) high definition video combined with 7.1 surround-sound audio, driven by TMDS signals from a mobile device to an LCD TV if they each embed an MHL chip. In the meantime, the mobile device, such as a smartphone, can be charged with the power from the LCD TV through the MHL connection. Over 500 million mobile devices including smartphones and tablets in the world to date have adopted the MHL interface standard.
The MHL Consortium announced MHL 3.0 in August 2013, which offers plug-and-play feature in addition to transmission of UHD (3840x2160) signal output with no delay, support for HDCP 2.2 for content protection against piracy, and enhanced 7.1 surround-sound audio. MHL 3.0 also supports simultaneous data transmission and touch screen control. The power consumption is as low as 10W, and the data rate is also higher. With MHL 3.0, a user can connect a smartphone to an in-vehicle infotainment device for control and to output audio-visual content to the on-board display.
Chase indicated Internet streaming media provider Netflix started offering UHD video streams in first-quarter 2014 and Sony will begin video streaming services in second-quarter 2014. YouTube and M-GO plan to kick off support for UHD mobile video streaming in 2014. Furthermore, Samsung's UHD TV S9, launched the day before 2014 CES, adopts MHL 3.0 technology from Silicon Image to deliver superior new audio-visual experience with UHD at 60fps. Sony Xperia Z2 smartphone, Xperia Z2 tablet, and XBR 950B series UHD TV are also to incorporate the MHL 3.0 specification.
MHL 3.0 UHD solutions by Silicon Image
Chase presented Silicon Image's MHL 3.0 connection solutions targeting the UHD ecosystem, including Sil8620 UHD/MHL 3.0 transmitter, featuring parallel operation of USB data transmission and HID control, along with HDCP 2.2 video output; Sil9394 bridge/dock IC, featuring a UHD/MHL 3.0 to HDMI 2.0 bridge, and parallel operation of USB data transmission and HID control, along with HDCP 2.2 video output; Sil6031 multimedia switch IC, supporting UHD video output and switching between an MHL 3.0 port and two USB ports.
Chase commented MHL has become a major standard for mobile device connection interfaces. There have been more than 300 MHL-enabled products including TVs, audio-visual devices, desktop PCs, notebooks, smartphones, and tablets, totaling over 500 million units manufactured by 200 suppliers in 16 industries. It is estimated that in 2014, 26% of Android smartphones by 17 manufactures will incorporate MHL technology, and the most affordable MHL phone among those is priced at US$150. In addition, over 40% of digital TVs by 20 suppliers will support MHL in 2014.
MHL specification supports connection to big screen TVs for purposes including enhancing home entertainment experience, boosting production through image projection for commercial use, connecting mobile devices to in-vehicle infotainment systems, and promoting development of devices for cloud applications. For example, the ROKU Streaming Stick delivering on-demand video, Dell's Project Ophelia, and Sony's Bravia all incorporate the MHL interface, transforming a digital TV into full-featured Android smart TV.
Moreover, automobile electronics manufacturers including Pioneer, Kenwood, JVC, Clarion, Alpine, Sony, SoundMAX, Mitsubishi, Daein Tech, and Harman Kardon are also prepared to launch in-vehicle infotainment devices supporting MHL interface.
60GHz WiHD mobile solutions
LG, Panasonic, NEC, Samsung, Sony, and Toshiba together with SiBeam, the only IC supplier in the group, were the founding members of the WirelessHD(WiHD) Consortium, established in October, 2006, with Intel and Broadcom joining later on. WiHD (IEEE 802.15c) is a specification for in-room transmission of uncompressed 1080p60 HD display (within a 10-meter distance) in the 60 GHz Extremely High Frequency band with data rates reaching 28Gbps. Eleven manufactures have adopted WiHD technology to develop related products/applications. The WiHD specification was finalized in 2008 with products entering the market in 2009.
Chase indicated the 60GHz WirelessHD specification is a wireless transmission solution that prevents interference with 2.4/5GHz WiFi frequency band with minimum delay. It is limited to point-to-point in-room or indoor transmission. The WirelessHD specification also uses smart antenna with direction of arrival (DOA) estimation to enhance transmission performance. After acquiring SiBeam in May 2011, Silicon Image has become one of the few companies capable of providing 60GHz wireless transmission technology.
Chase mentioned the third generation WiHD transceiver module, developed with Sil6310 WiHD chip, comes in a PCBA with only half the length of its previous generation, thereby offering lower costs, less power consumption, and compact design space. The UltraGig6400 chip, in a compact 10mm x 7mm SIP package, is even reduced in PCBA dimension by a further 50% from the third generation. UltraGig6400 integrates built-in Sil6400, antenna, and other RF transceiver devices. Sil6400, targeting mobile devices including tablets and smartphones, features a maximum power consumption as low as 500mW to deliver powerful wireless transmission of audio-visual signals with low cost and low energy consumption for mobile devices.
Alienware's M14 gaming notebooks, Epson's EH projector, Sony's HMZ-T3W head mount display, and wireless A/V transmission boxes including DVDO Air3 and Gefen wireless adapter are among the products that currently adopt WiHD solutions from Silicon Image.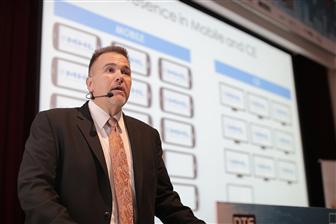 Jim Chase, chief evangelist at Silicon Image