Toshiba has announced development of a high-resolution photo-sensitive film (photoresist) essential for future application of extreme ultraviolet (EUV) lithography in semiconductor fabrication, and proved its viability with 20nm-scale generation process technology. The breakthrough will be announced on November 19.
Semiconductor circuit patterning requires photoresists that can be used in both positive- and negative-tone processes to secure precise structuring. Toshiba has developed a low molecular resist for EUV generation by employing a derivative of truxene – a low molecular material that is finer and more durable than currently used polymer materials. The company applied this resist to positive tone process, and has now succeeded in applying it to the more demanding task of the negative tone process and forming a test pattern in the 20nm-scale generation.
Toshiba said it has established the fundamental composition of a truxene derivative for photoresist, and demonstrated its use as a positive-tone photoresist in EUV generation. The company has also optimized performance by balancing truxene derivative and a cross-linker to maximize the negative photoresist performance. The cross-linker and a photo-acid-generator are required to connect the molecules through a chemical reaction, and their compound ratio was optimized according to the transmittance of the light and reaction speed.
Toshiba said it will further improve the performance of the molecular resist and apply it to the fabrication of 20nm-scale generation LSIs. Citing the International Technology Roadmap for Semiconductors (ITRS), the company expects high-volume production of this generation to kick off in 2013.
By the time lithography technology advances into 20nm and sub-20nm generations, use of today's argon fluoride laser exposure apparatus and polymer photoresists will no longer resolve circuit patterns precisely and result in roughness in pattern sidewalls. The solution lies in a transition to EUV lithography and photoresist based on low molecular materials.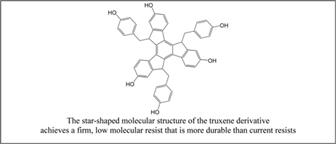 Truxene derivative for photoresist
Photo: Company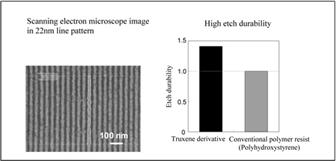 Composition for negative photoresist material: Optimized ratio for truxene derivative to cross-linker is three to one
Photo: Company