Recommendation on hardware design of, and support to, Windows 7-based tablet PCs
Press release
According to Youwei Tsai, software development manager of Microsoft's Software and Services Excellence Center, while tablet PCs and various other mobile computing devices are becoming increasingly prevalent, the role of endpoints in a cloud computing environment is becoming increasingly important because more and more computing applications will be implemented by endpoints. That is why Microsoft selects Windows 7 instead of Windows CE or the highly regarded Windows Phone 7 as the operating system for tablets. "Tablets in nature are more similar to PCs than smartphones," said Tsai. "Therefore, the same operating system for PC should be used in order to provide a consistent user experience."
In general, tablets are primarily used for emailing, game playing, music listening and film watching, photo viewing, reading, shopping, web browsing in addition to accessing applications and files. Windows 7 not only provides many applications for such purposes but also features more outstanding functionality than other operating systems for tablets. Web browsing and online shopping, for examples, benefit from IE 9.0 of Window 7, which concurrently supports ActiveX, Flash, and Java while providing security mechanisms such webpage filtering. Moreover, many online banking services in Taiwan are available only to IE, which really outdoes other operating systems for tablets.
In order to support touch screen input, the greatest feature of tablets, Windows 7 has many improvements that make the major functions of most applications touch controllable. For example, Windows Internet Explorer supports various gestures for page forward and backward as well pan and zoom-in and out. Windows Live Photo Gallery provides multi-touch zoom-in and out with edge cue and bounce responses for page panning, and its touch-friendly keyboard that looks even better is more responsive and capable of input anticipation and error correction learning. "These new functions designed by Microsoft to support touch-control screens are an attempt to enrich the user experience in tablets and optimize tablet operation," said Tsai.
In order to maximize the effectiveness of tablets operated by touch control, Tsai suggested that system manufacturers keep layouts as clean as possible, make touch-control objects large enough when developing touch-control applications, and remove unnecessary elements in user interfaces to reduce user errors and strengthen user confidence. "In a touch-control environment, users tend to act more intuitively and touch-control objects should be responsive to user movement and consistent with their intuition," said Tsai. Also, it must be ensured that fingers or palms will not cover major user interfaces during operation, and animations and object changes on the display should be consistent with physical laws in the real world for easy operation by gestures. This will facilitate easy learning and provide a consistent user experience. "It is essential that touch-control applications are effective enough when they are assessed based on the perspective of users," added Tsai.
As tablets are often handheld when in use, Tsai suggested that hardware design should pay attention to ergonomics by factoring in weight distribution to enable single-hand operation as well as seamlessness between the screen and frame to facilitate touch control at screen corners and edges. "Any handheld area should be smooth enough and avoid heat vents in order to prevent discomfort," said Tsai. Accidental activation of physical keys on the case should also be prevented and touch feedback can be considered to increase user confidence in operating touch control.
Moreover, the battery life of tablets is very important. "Most people tend not to switch off their tablets that are not being used," said Tsai. "They tend to use tablets for five minutes and then use them again for 10 minutes after an hour." Therefore, USB should support selective suspend and the battery should be powerful enough to support 72-hour standby, while waking up from the S3 standby mode should take place in two seconds. Touch screen resolution, according to Tsai, should follow Windows 7 Human Interface Device requirements to be higher than 25 ppi, with the sampling rate per finger at least 50Hz. There should be no response from untouched areas; touch accuracy should be within ±2.5; and the distance between an object and the touch points beyond two should be within 5mm. "This will create the highest performance with Windows," he added.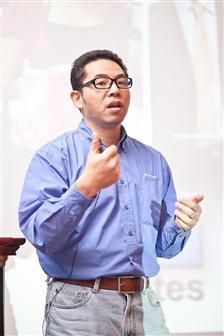 Youwei Tsai, software development manager, Software and Services Excellence Center, Microsoft Taiwan
Photo: Digitimes
DIGITIMES' editorial team was not involved in the creation or production of this content. Companies looking to contribute commercial news or press releases are welcome to contact us.