142 news items tagged Windows 7
The Europe, Middle East, and Africa (EMEA) traditional PC market (desktops, notebooks, and workstations) grew 1.1% on year in the second quarter of 2019 and totaled 16.4 million units,...

TSMC has made its full recovery after being hit by a computer virus, said company CEO CC Wei at a press event on August 6. The impact on its third-quarter revenues is expected to...

Compal Electronics president Ray Chen expects PC demand to return to growth in 2017 because of a replacement trend from the enterprise sector created by Microsoft ending support for...

Demand for Microsoft's Windows 8 is unlikely to start emerging until 2013 for the consumer market, while for the enterprise market, demand is expected to come at an even later time...

Although Microsoft has already released Windows 8, notebook brand vendors are still promoting Windows 7-based models in the fourth quarter in order to digest remaining inventories...

Some branded notebook vendors have lowered the prices of their Windows 7-based notebooks sold through channel operators in the US recently in order to pave the way for the launch...

After announcing its Windows 8 upgrade plan for newly purchased Windows 7-based PCs in early June, Microsoft recently announced a new upgrade plan allowing consumers to spend US$39.99...

Intel is set to push a tablet PC product codenamed StudyBook to target emerging markets and will adopt the same sales model as its Classmate PC, according to sources from PC players...

Micro-Star International (MSI), commenting about the recent market rumor that the company plans to shrink down its notebook business, pointed out that the company is only making some...

The newly released iPhone 4S lags behind some mainstream smartphones as far as specifications are concerned, giving rival companies in either the Android or Windows Phone camps, including...

Intel recently adjusted the launch schedule of its next-generation netbook platform, Cedar Trail-M, from September to November because the platform has encountered some graphics driver...

Taiwan-based notebook vendor Asustek has achieved a strong performance in the tablet PC market, but may not be able to achieve its shipment goal of 20 million notebooks and netbooks...

Asustek Computer, at a product launch conference in China, pointed out that notebook demand in the China market was weak in the second quarter, but as the IT market will enter the...

Compal Communications has lowered its handset shipments target for 2011 to 4.5 million units from six million projected earlier due to adjustments in product strategies by its clients,...

Japan-based notebook brand Fujitsu has recently launched its self-developed 10.1-inch LifeBook TH40/D tablet PC featuring Windows 7 in Japan, the US and Europe, and the company is...

Micro-Star International (MSI) is set to announce two new tablet PCs – the WindPad 100A, adopting Google Android 3.0 and Nvidia Tegra 2, and WindPad 110W, adopting AMD's Brazos...

Google's Android 3.0 (Honeycomb) as well as Microsoft's Windows 7 still stand a good chance of challenging Apple's iOS, with the global market share for non-iPad devices in 2011 estimated...

According to Sam Chang, program manager, Windows Planning and PC Ecosystem, Microsoft Taiwan, in addition to business information systems, information systems for consumers and social...

According to Youwei Tsai, software development manager of Microsoft's Software and Services Excellence Center, while tablet PCs and various other mobile computing devices are becoming...

Have you ever heard of an application, Lovely Time? It is a time-telling app that shows the smile of Taiwan girls. On the other hand, Arock has a cross-desktop, mobile, and web application...

In June 2010, Microsoft Taiwan announced the establishment of its Software and Services Excellence Center (SSEC). Since then, the SSEC has been endeavoring to develop natural user...

Optimistic of the market of cloud services, ViewSonic has been developing Windows 7-based tablets since Microsoft launched Windows 7.

Taiwan-based motherboard maker Elitegroup Computer System (ECS) is set to showcase its latest 10.1-inch Windows 7- and Android-based tablet PCs at CeBIT 2011, which will be hosted...

Estimates by IDC, Gartner, Strategy Analytics, and Wall Street analysts show that the global PC shipment in 2014 would be at least 50% higher than 2010, and 18% of the growth would...

Silicon Integrated Systems (SiS) has announced its 10-finger multi-touch IC solution – SiS9200 series – has been validated by Microsoft Windows 7 certification. The SiS9200...
Related photos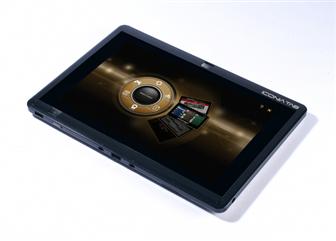 Acer Iconia Pad W500 tablet PC
Photo: Company, Thursday 17 February 2011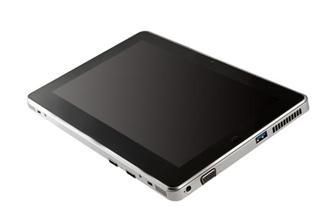 Gigabyte S1080 tablet PC
Photo: Company, Friday 14 January 2011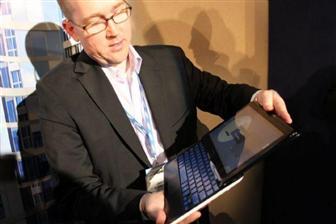 CES 2011: Samsung 7 Series sliding tablet PC
Photo: Yen-Shyang Hwang, Tuesday 11 January 2011
Related news around the web