The best opportunity for the Taiwan IT industry transformation: Smart cloud platforms and development of relevant applications
Press release
The rise of cloud computing services brings in an increasingly shorter life cycle of various smart end-user devices, and this is a great business opportunity for hardware and software companies as they will be able to provide a rich yet familiar user experience by integrating a range of innovative applications and services. In response to such a trend, Microsoft recently hosted a smart cloud platform and application development symposium at the Taipei International Convention Center. The symposium invited Jochen Siegl, manager of ODM Business Development, Microsoft, and Doug Burger, director of Client and Cloud Applications, Microsoft, to respectively deliver speeches on Microsoft's strategies for developing cloud applications and devices as well as Microsoft's observations and research directions of the limit. They also shared with the more than 100 symposium attendees their hands-on experience in the cloud applications of Windows 7, Windows Phone 7, IE 9.0, and Windows Live based on two major categories: development of cloud applications and smart cloud system design.
Many companies and government organizations have been investing in cloud computing but, according to Davis Tsai, general manager of Microsoft Taiwan, most of them focus on Cloud applications and technologies instead of Client. In fact, however, the development of Cloud and Client should be equally important in order for consumers to enjoy the richest and very diverse cloud computing experience.
Therefore, Microsoft - supported by Taiwan's Ministry of Economic Affairs - established its Software and Services Excellence Center (SSEC) in June 2010 in Taiwan. Since then, the SSEC has been integrating advanced ODM and R&D resources at Microsoft, bringing in the energy efficient, environmentally sound Microsoft datacenter technology to Taiwan and cooperating with Taiwan hardware and software companies to develop natural user interfaces (NUI) for various end-user devices to help narrow the digital gap resulting from the inconvenience of traditional keyboards and mice.
"As touch-control screens and sensors are becoming a standard for various smart user-end devices, NUI input methods for body movement, gestures, and voice will mushroom," said Doug Burger. In particular, NUI applications will be increasingly prevalent in webpage browsing, accessing photo and audio-visual files, as well as entertainment and recreation such as game playing. According to Limin Zhang, a senior consultant for Microsoft Taiwan, computer users will become increasingly used to touch control and they will also want multi-touch control. Therefore, when software developers select development tools in the future, they should factor in whether the tools support various gestures as well as whether the applications to be developed for touch control can be increased, integrated into different platforms, and have common modules that can be readily used by other programs.
For example, it took less than one week for Arock's development of a cross-desktop, mobile, and web application similar to Lovely Time, a time-telling widget. According to David Dong, technology director of Arock, using Visual Studio 2010 as the development tool as well as Silverlight and C# for design accounts for the successful development, which would have been otherwise impossible. Moreover, the application crossing "three screens and a cloud" was developed at a relatively low cost.
Moreover, IT hardware manufacturers need to change their PC-oriented design thinking. For example, the screen resolution, sampling rate per finger, ghost point, noise, and touch accuracy standards for a touch screen should all be consistent with the Windows 7 Human Interface Device requirements, according to Youwei Tsai, software development manager of the SSEC, and the screen and frame should have an all-in-one, seamless design to enable effective touch control at screen corners and edges.
The demands for frequently used touch control functions of consumer tablet PCs and high-end professional tablet PCs are different, according to Wade Tsai, a senior consultant for the SSEC, and different business and entertainment purposes should be clarified first, including whether a touch control function can help enhance a given application service, and which levels of touch control, e.g., single-touch control, multi-touch control, gesture control, or other special effects of touch control, are required. "Developers should not single-mindedly pursue the most wow effect regardless of cost," added him. "They should consider whether the input/output ratio is worthwhile."
Moreover, because of continuous computing in Cloud, both Cloud and Client need powerful computing capability in order to effectively provide the content-oriented, personalized service that users need while enabling smooth system switching and assessing computing resources anytime. "Continuous computing in Cloud needs collaboration between Cloud and Client in order to deliver the best user experience," said Sam Chang, program manager, Windows Planning and PC Ecosystem, Microsoft Taiwan. "Therefore, Microsoft's integration of Windows 7, Internet Explorer 9, and Windows Live is an attempt to develop the best and personalized cloud platform."
As nontraditional computing devices are replacing desktops and becoming a mainstream product for consumers, Jochen Siegl noted that Microsoft's marketing for Windows 7 - doing without the company's traditional PC operating system positioning - emphasizes the operating system's support for different platforms for cloud computing as well as ARM, Qualcomm Snapdragon, and Nvidia Tegra 2 processors. "Windows is a very ideal operating system for client devices," said Jochen Siegl. This is because no further learning is required, while Windows supports Mobile Broadband, DriectAccess, and VPN, and there is also a wide variety of Windows-based user-end devices for consumers to choose.
"The Taiwan IT industry is the global OEM and ODM leader, and I believe that our cooperation with Taiwan hardware and software partners is going to rapidly resolve all the issues facing Microsoft in developing cloud computing products," said Davis Tsai. According to Alan Chang, general manager of ViewSonic Asia Pacific and Europe, since Microsoft launched Windows 7, ViewSonic has been working with Microsoft and Intel for the development of many models of tablet PCs, helping the public understand how tablet PCs in conjunction with cloud services will enhance work efficiency and enrich life. Accordingly, ViewSonic lent more than 30 of its tablet PCs to the symposium for attendees to get a hands-on experience.
"It is a pity that Microsoft used to work more with Taiwan hardware companies than their software counterparts," said Huang Jung-chiou, Taiwan's vice minister of economic affairs, who hopes foreign companies to bring in advanced technologies to Taiwan, educate Taiwan industry partners, and help grow local software talents in addition to merchandizing their products here. Since the burgeoning of cloud services, Microsoft has been providing its resources and actively seeking cooperation with Taiwan. "This is the best opportunity for Taiwan IT companies to transform themselves," added Huang.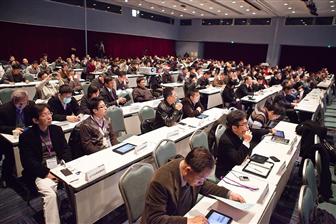 Microsoft's smart cloud platform and application development symposium in Taipei
Photo: Digitimes
DIGITIMES' editorial team was not involved in the creation or production of this content. Companies looking to contribute commercial news or press releases are welcome to contact us.