Hanoi to play iconic role in Vietnam smart city development
Staff reporter, Hanoi; Willis Ke, DIGITIMES
Vietnam is a young country with more and more people ready to swarm into urban areas, and Hanoi will become an iconic place for promoting the country's overall smart city projects highlighting energy resources, water resources and transportation, Nguyen Duc Chung, chairman of the Hanoi People's Committee, said when opening the ASOCIO Smart City Forum 2018 on September 18 for a three-day run in the capital city.
Acting on the instruction from the central government, Hanoi has set the goal of achieiving 100% clean water by 2020, and in line with the urbanization trend, Hanoi will serve as a role model for the implementation of smart city projects.
At the opening session, David Wong Nan Fay, chairman of the Asian-Oceanian Computing Industry Organization (ASOCIO) that organizes the forum, said that the attendance of 500 representatives from more than 10 member states of the organization shows the great expectations for fast urbanization and smart city solutions among emerging countries in Asia.
Yvonne Chiu, chairperson of the World Information Technology and Services Alliances (WITSA), also noted that with Bhutan joining as a new member, WITSA now has a total of 83 member states from around the world, with those in Asia particularly abounding in business opportunities. Chiu called for Hanoi to partner with Taiwan in the development of smart cities.
Vietnam now has a population of nearly 100 million, with 60% of them being young people. This, coupled with an annual GDP expansion of over 6%, will turn Vietnam into a star of tomorrow in Asia. Statistics show that Vietnam has over 70 million handset users including 64 million smartphone holders, indicating that the country has developed good infrastructures for digital transformation.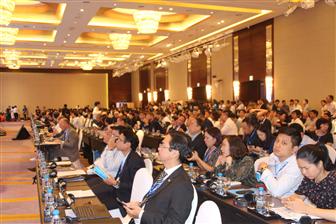 ASOCIO Smart City Forum 2018 takes place in Hanoi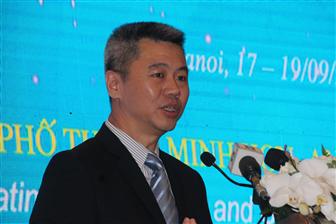 ASOCIO chairman David Wong
Photos: Digitimes staff, September 2018