Memxpro showcases new industrial TLC SSDs for smart surveillance and retail markets
Press release
Memxpro, a leading DRAM module and SSD solution provider for defense, industrial, in-vehicle, and enterprise markets, will showcase software technology and a broad range of PCIe and SATA TLC SSD form factors, along with high-speed DDR4 DRAM module solutions at Computex 2019.
These new products target intelligent transportation, security and surveillance, and smart retail storage applications. Featuring large capacity, high performance, high shock and vibration resistance, extended endurance, industrial wide temperature option, and data security, these budget-friendly smart SSDs come with Memxpro's self-developed device monitoring and data backup software toolsets. New industrial-grade TLC SSD ensures a high ROI for write intensive applications within the growing field of AIoT edge computing and the booming business opportunities of smart retail signage, intelligent transport and railway surveillance, smart street lighting control, and intelligent parking systems.
High-speed computing storage
PCIe SSD is twice or three times faster in read/write speed than SATA to meet AIoT requirements. Memxpro PCIe TLC SSD includes U.2 and M.2 2280. The PCIe MVMe interface controller with 10K P/E cycles and 3D TLC combines performance and durability. It is the best solution for industrial and intelligent applications requiring high-speed, large volume data transmission throughput. The new Memxpro DDR4-2666 memory modules possess attributes of high-speed, high-compatibility, low-power-consumption, high-reliability, and wide temperature range support. They are the first choice for embedded applications, industrial equipment, and edge devices operating in challenging environments with fluctuating temperatures.
Reliable data read/write: 10K P/E cycle and low WAF
Smart city technologies are rapidly being developed for diverse global markets. Applications for these markets require reliable storage media to handle high-clarity video, large data acquisition and analysis, and stable performance in challenging environments. Equipped with Micron's original 10K P/E cycle TLC flash, Memxpro 3D TLC SATA III SSD ET30 series offers a total bytes written (TBW) of up to 5,500TB for its 1TB SSD and compared with consumer TLC SSD, it offers 13-15 times better TBW. Take as an example 60 Mbps of video, the total amount of written data over five years will be 1,182TB. This means a 1TB ET30 drive connected to single camera can be used for 23 years and if you were to connect four cameras simultaneously, you would be able to use them for over five years.
Worry-free ruggedness and advanced data security
SSD are definitely much less sensitive to vibration and shock, as well as more resistant to temperature compared to HDD, making them better for transportation mobility storage. SSDs provide a huge performance advantage over hard drives ?X they're faster to start up, faster to shut down, and faster to transfer data. Memxpro utilizes new Silicon Motion's SSD controller with 3D TLC flash, which supports AES-128/256 data encryption technology and provides excellent information security.
Work locally, view centrally, manage remotely
Whether used in chain stores or railway stations across the country, Memxpro mSMART4.1 has tapped into the cloud with Microsoft Azure IoT and supports simultaneous management of multiple storage devices for total device status control. When it detects high risk conditions, warning notices are given out to remind users to take preventative action, reducing maintenance and enhancing operational efficiency.
Whether you're after industrial grade SSD for intelligent transportation, security and surveillance, or smart retail storage, Memxpro has the right product. Memxpro is at Computex, Booth No. J1122, Nangang Exhibition Center, Hall 1, 1st Floor.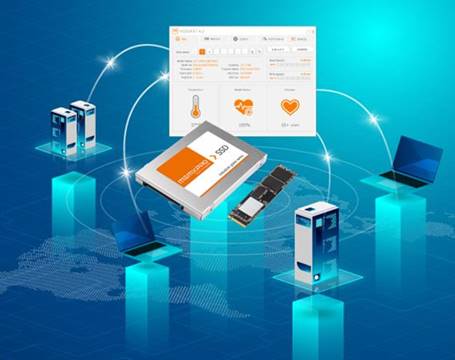 Memxpro innovative PCIe/SATA SSD solution and smart monitoring tool enable an intelligent optimization of customer's system.
DIGITIMES' editorial team was not involved in the creation or production of this content. Companies looking to contribute commercial news or press releases are welcome to contact us.