The population in Africa has grown over 1.2 billion and the consumer market is huge. Most of the industries are still in the early stage. In such a vast and fast growing market, establishing a cooperative relationship with the local enterprises is particularly important. Proscend initially focused on SHDSL and VDSL2 P2P equipment and became one of the leading providers in this field.
Over the past five years, Proscend has not only developed a complete line of industrial-grade DSL and Long Reach PoE Switch products but also dedicated in developing industrial-grade mobile communications by launching a full range of Industrial LTE Cellular Routers for use in surveillance system, power plants and smart transportation projects. Because of its professional R&D capabilities and technical support strength, Proscend's industrial-grade communications solutions have quickly gained trust and recognitions by its international customers, and successfully deployed to the United States, Germany, France, Japan, Switzerland, India, Israel and etc.
Proscend has some existing partners which have been cooperating with us in several countries of Africa. To expand business, Proscend is pleased to attend a trade mission for African market organized by TAITRA in this June, and will take this opportunity to promote products which covering Industrial LTE Cellular Router series, Long Reach PoE Switch series, SHDSL series, VDSL 2 series, …, etc. Proscend relies on both professional capabilities and strong support services to international market. For example, an industrial-grade LTE cellular router featuring PoE power supply and Dual-SIM slot design has been integrated into remote monitoring and control applications by an international renowned security cabinet system manufacturer. The VDSL2 SFP series, converts optical equipment into DSL signals via copper cable to reduce the high cost of new wiring. It has been widely used in Europe, the United States, New Zealand and Australia.
Proscend is committed in cultivating local markets. Recently, Proscend Communications India Private Limited, a subsidiary of Proscend in the Indian market, participated in the largest smart cities India exhibition. The local customers responded enthusiastically and were highly interested in further cooperation. Proscend has the confidence to carry the experience from Indian market to African market in similar way. Africa is the second largest continent in terms of area and population as well as the booming growth of macro economy. Proscend is in pursuit to build up long-term partnership with local partners.
In addition to business promotion, Proscend also cares about the need and desire for digital learning from young generations in Africa. Proscend is a proud sponsor of NTHUpendo Volunteers for Education in Tanzania. NTHUpendo is a volunteer program from "National Tsing-Hua University" that provide PCs and share ICT knowledge to the people in Tanzania. By giving information education training and supporting relevant software and hardware resources, we hope collaboratively improve the lack of education resources in Africa and satisfy the need of local students for digital learning. Through the exchange of cultures, we wish to spread our love and hope to Africa.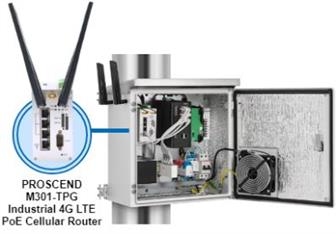 Proscend industrial LTE PoE cellular router
DIGITIMES' editorial team was not involved in the creation or production of this content. Companies looking to contribute commercial news or press releases are welcome to contact us.