TWCC high performance computing services helping Taiwan industries embrace AI in shaping future innovation
Sponsored content
Artificial Intelligence (AI) is paving the way for a more advanced, sophisticated and future-proof applications. Most global organizations view AI technology as a long-term strategic priority for innovation to reap the benefits of business growth and success. Meanwhile, the adoption of AI technology to create use cases combines with the internet of things (IoT) across the globe is presently outrunning the speed. While these two broad concepts collide, the multiple data sources have emerged and required immense computing services to process large volumes of streaming data.
Driven by the Ministry of Science and Technology, the AI Cloud Platform named Taiwan Computing Cloud (TWCC), was implemented by the NCHC (National Center of High-performance Computing) together with three Taiwan-based high-tech enterprises, such as Taiwan Mobile, ASUS and Quanta Computer to build "Taiwania 2" supercomputer system. TWCC runs on the strength of Taiwania 2 to provide the services to education and academic research institutes in June 2019. And it continues to expand the services to industries in October of the same year aiming to make it a powerful tool to fulfill the needs of science and technology innovation. The first "made in Taiwan" AI supercomputer, Taiwania 2, is a milestone in Taiwan's promotion of AI as a core tenet of its future development.
At the opening session in the Tech Summit hosted by NCHC on October 17th 2019, Deputy Minister of Ministry of Science and Technology Hsu Yu-chin stated that government funded TWCC service will lead to massive speedups for tasks to support high performance computing and AI workloads at scale. This powerful AI supercomputer investment will dramatically enhance performance for AI applications and further push the boundaries of industrial digital transformation by providing massive computation and storage services. He hopes to see TWCC spurring advanced technological research and development to increase Taiwan's economic competiveness.
The launch of TWCC service is also supported by global tech giants including NVIDIA and IBM engineering teams through several intensive cooperation programs to build hardware and software development platforms for supporting industrial projects. Shepherd Shi, NCHC Director General, takes the opportunity to thank them to join the projects. Since May 2019, the TWCC have been providing services to reach 90% of computation capacity and accumulated 8 million GPU cores per hour for training machine learning framework and testing various algorithms.
Compared with other AI public cloud service providers, TWCC delivers world-class service quality and has leading edge in terms of speed and performance, Shepherd Shi adds. Developers can quickly build their working environment with high efficiency and cost advantage over current methods. TWCC service gives users in industries, academia, and research fields more timely and more cost effective computing services.
The live demo during the presentation of Shepherd Shi shows a successful use case of Taiwan wind turbines green energy project for adjusting an optimum pitch angle of rotor blades and operate the sites with increased efficiency. This powerful prediction scheme is developed by NCKU to use high-speed parallel computing resource provided by TWCC. In the conference, there are 11 standout products showcasing in booth to display the commercialization of research results from cutting-edge R&D firms or startups.
High-tech and academic research projects facing challenges from multiple data sources and big volume issues
Professor Sean Smith, director of National Computational Infrastructure of Australia (NCI Australia), gives the first keynote speech. He shares recent development of high performance computing and national computation infrastructure in Australia. Funded directly by Australian Government, the data center construction was initiated in August 2011, and was completed in September 2012 because of the high demands of weather forecast study and advanced geographic research projects. In November 2019, the second supercomputer system will be launched and start to provide the service. Both the first and second set of supercomputer systems are all designed and built by Fujitsu.
Based on the analysis of the service usage of HPC resource in NCI Australia, the biggest part of research organization is universities taking 29%. And the largest category of research topics is the Earth and Earth System Science occupying 38%. Smith highlights those research projects consume lots of parallel processing and computing resources because dealing with the challenges of multiple data sources and big data volume. Taking the Geographic Information System (GIS) project as an example, the research datasets are growing massively every year. The data comes from different satellite systems of US, EU and Australia. And there are even more data from extra IoT devices or sensors. The current top 3 datasets are Earth-Observation Data, Genomic Data and Climate Model Data. Each of them to perform data processing and big data analytics requires power computation and storage features.
Facing the challenges of data complexity and big volume issues, NCI Australia is delivering "data as a service" for tackling the challenges. The National Environmental Research Data Interoperability Platform (NERDIP) is the interface to provide an integrated platform for users to access datasets managed at NCI Australia. The building blocks of NERDIP include Data Storage Infrastructure, Data Discovery Standards and Conventions, and also the Data Access Services which allow users from government organizations, academia and industrial communities to access the data services for advanced research projects.
Successful leveraging global trend of AI and Big Data analytics relying on human interaction with data results
The second keynote speech is presented by Jing Shyr, IBM Fellow Emeritus. She focuses on the relationship between Big Data and AI. From her long experience for doing Big Data Analytics projects for more than 30 years, she shares a first-hand view of data challenges. There are so many new forms of data sources, especially generated by IoT devices or sensors today. AI applications are the trend we need to leverage for handling and analyzing a large volume of data to produce useable results, Jing Shyr highlights.
She continues to describe how smart analytics works. It is starting from data preparation. Then the creation of automated data modeling is paving the way for data prediction and analytics. The entire process flow shows why Automated Machine Learning (autoML) is so hot that it becomes a must for most of software vendors. Finally, the data results come to lead a solution to solve the problem by understanding the data insight.
It's important that data is less often about telling a specific answer and more like starting a guided conversation and letting the users find the answer that fits their needs. That's the reason why it's important to offer conversation between human and data analytics, since the Big Data Analytics project is mostly relying on iteration between human and data results.
As AI applications are getting more popular and massive Auto AI solutions are widely noticed, developing technology for Big Data Analytics is still critical. One of the key elements is that data scientists and data engineers' skills are in high demand. Working closely with a good data scientist will drive better results and unveiling better solutions, Jing Shyr continues. The modern AI applications including self-driving car, facial recognition or characterized advertising are all important use cases to solve human problems and live a better life.
Building Taiwan AI ecosystems to accelerate industrial digital transformation
The panel discussion session invites guests to focus on the topics of building AI ecosystem to accelerate digital transformation for Taiwan industries. Speaking in the first, Shepherd Shi points out that TWCC is creating an important platform to share the AI research results to enable Taiwan industry to grasp new business opportunities. Through the TWCC service with dedicated and secured networking, storage and high performance computing environments, it will ensure that the research results find their way into the industrial sector and create a business model.
Peter Wu, general manager of ASUS Cloud Corporation, also sees TWCC service as an important national investment for Taiwan to create a good chance to allow Taiwan enterprises to gain a good reputation to build a supercomputer system. The important thing is the software capability has been well recognized by global tech communities and leading players. It will help Taiwan ecosystem partners have important growth opportunities to win the high performance computing system, building a benchmark apart from the role of hardware manufacturers in the old time.
Allen Liou, VP of Taiwan Mobile, focuses on the business opportunity of 5G network services. The AI system is the "Brain" to enable a broad range of smart applications for enterprises and end users. The AI innovation will be a key enabler to change the landscape of Telecommunication, media, retail, e-commerce, finance, and medical industries.
The AI-enabled drones are becoming a game changer for the company like Coretronic Intelligent Robotics Corporation (CIRC), said General Manager Andy Hsin. It helps CIRC to capture the new business models to offer versatile security applications and services. And this change is showing the great possibility to transform a hardware manufacturer to a service provider.
Cheng-Hong Cho, CEO of Institute for Information Industry (III), highlights the importance for building ecosystems to form a value-adding network of partners and collaborative organizations. This will be an important competitive advantage not only leveraging AI becoming leading edge in scientific research, but also helping industries to accelerate digital transformation. And TWCC service will become fertile ground for more AI development teams to nourish and grow into world-class organizations.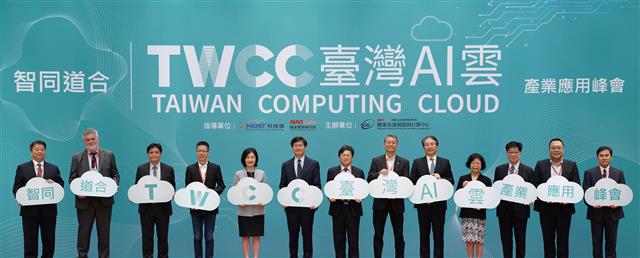 Guests at TWCC Forum (from left to right): Cheng-Hong Cho, CEO, Institute for Information Industry; Sean Smith, director, NCI Australia; Jacky Hsu, CTO, IBM Taiwan; Mike Yang, SVP, Quanta Computer; Eunice Chiu, global VP and Taiwan GM, NVIDIA; Yu-chin Hsu, deputy minister, Ministry of Science and Technology; Yeong-her Wang, president, NARL; Shepherd Shi, director general, NCHC; Robert Chin, Asus GM, Server Business Unit; Jing Shyr, IBM fellow; Alen Chen, VP of Pre-Sales Department, SAS Taiwan; Andy Hsin, GM, Coretronic Intelligent Robotics Department; and Hsi Ching Lin, deputy director general, NCHC.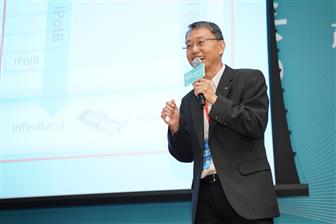 Shepherd Shi, director general of NCHC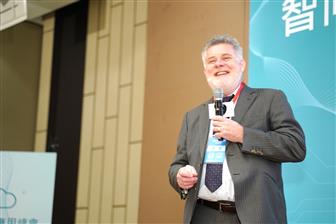 Sean Smith, director of NCI Australia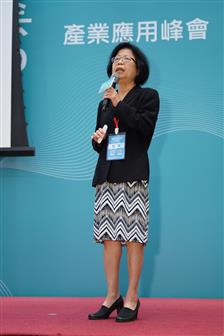 Jing Shyr, IBM fellow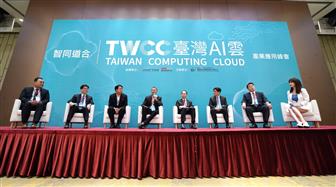 Guests at panel discussion (from left to right): Andy Hsin, GM, Coretronic Intelligent Robotics Department; Jacky Hsu, CTO of IBM Taiwan; Peter Wu, GM of Asus Cloud Corporation; Shepherd Shi, director general of NCHC; Allen Liou, VP of Taiwan Mobile; Alen Chen, VP of Pre-Sales Department at SAS Taiwan; Cheng-Hong Cho, CEO of Institute for Information Industry; and Nicole Hsiao, the moderator.
DIGITIMES' editorial team was not involved in the creation or production of this content. Companies looking to contribute commercial news or press releases are welcome to contact us.