Taiwan's PC monitor shipments, fueled by rising work-from-home activities, are expected to undergo a sequential growth of 24% to 22.94 million units in the second quarter 2020 after such shipments plunging 20% on quarter and 9.4% on year in the previous quarter, Digitimes Research estimates.
In the first-quarter 2020, shipments of monitors sized in 22- to 26-inch surged significantly to account for over 50% of Taiwan's total monitor shipments, with the ratio of above 27-inch model also edging up.
Most Taiwan-based makers saw their shipments reduce significantly in the first quarter as the operations of their major production sites, mostly located in China, have been affected by the coronavirus pandemic, Digitimes Research said.
TPV Technology and Qisda were the top-2 makers in Taiwan in the first quarter and both experienced around 20% sequential declines in shipments in the quarter. Foxconn Electronics and Wistron also suffered severe shipment declines in the quarter, resulting in falls of their rankings to behind those of LG Electronics and Samsung Electronics.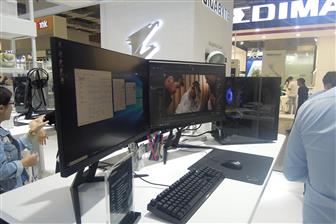 Taiwan PC monitor shipments to rise in 2Q20
Photo: Digitimes file photo