The whole world is striding towards digitization and adopting smart technologies is the key strategy for sustainable development of manufacturers. Coretronic is an expert in the field of optoelectronics, as evidenced in the market share of its high-quality audiovisual products. However, the company not only seeks to continue advancing its optoelectronics business, but also develop unique advantages in the manufacturing sector.
Smart systems have been deployed in its factories to enhance production yield and efficiency. What's more, these systems now work as solutions for smart factories, smart warehouses, industrial artificial intelligence (AI), fully-automated smart transportation, and private clouds in the industrial Internet of Things (IoT), in order to offer well-rounded assistance for manufacturers to successfully intelligentize and digitize their business.
Eric Wu, president of Coretronic MEMS Corporation, stated that Coretronic decided to establish two subsidiaries, Coretronic MEMS Corporation and Coretronic Intelligent Logistics Solutions Corporation, in addition to Coretronic Intelligent Robotics Corporation to provide comprehensive smart solutions to manufacturers. The experience of these enterprises in the combination of information technology (IT) and operational technology (OT) systems has been leveraged to create a central control dashboard system that can maximize production efficiency with physical-virtual integration and cloud data.
Wu further expressed that the smart manufacturing sector can be roughly categorized into four layers: sensing, communications, cloud, and applications. Sensing is what initiates the entire system, the first step, and is responsible for collecting the data of manufacturing equipment on site. Communications technology then transmits such data to the back office. Nevertheless, the front office equipment produces massive amounts of data that could hugely burden the bandwidth and back office cloud platform. The Jupiter industrial equipment inspection solution is Coretronic MEMS Corporation's response to this challenge, based on its wealth of experience in the field. It can discern which equipment data is meaningful from the very first moment, thereby enhancing equipment effectiveness in the entire framework. The solution's MEMS vibration sensor is based on polyvinylidene fluoride (PVDF) multilayers technology, which brings a wide range of advantages in terms of performance: compactness, instrumental precision, and anti-interference ability against temperature and stress. Customers can gain access to an all-encompassing industrial AI solution by further combining the edge computing device and AI algorithms to effectively accomplish early warning and prognostic maintenance tasks of production lines.
Furthermore, there are numerous production lines dedicated to precision finishing in Taiwan, which are heavily reliant on the skills of expert craftsmen to manufacture high precision products. Shortage of manpower, however, poses a great risk for the transmission of these techniques as expert craftsmen have no one to pass on their knowledge to. Coretronic MEMS Corporation has also found an answer for this problem by collaborating with customers and successfully internalizing the experience of expert craftsmen, turning it into a smart solution: built-in AI algorithms. Quantitative database indices help customers address staffing shortage and attain capacity expansion.
With regard to intelligent robotics, the fully-autonomous mobile platform, comprised of an unmanned vehicle and autonomous mobile robot (AMR), is seen as a smart terminal essential to intelligentization in the industrial sector. Mac Chiang, general manager, Coretronic Intelligent Robotics Corporation, stated that the company's autonomous mobile robot (AMR) forklift and transporter is equipped with core technologies that encompass an interprocess communication (IPC) platform with in-built AI functions, 2D/3D simultaneous localization and mapping (SLAM) advanced navigation technology, AI-enabled image recognition, and a self-produced movement control and motor driver module. It is the optimal setup for a fully-automated smart transportation solution. With self-navigation functions, a 3D high precision map, and an accurate positioning of up to +/-10 mm, it is no longer necessary to manually install sensors, 2D positioning barcodes, or other outside equipment, allowing for more flexible planning of the production line.
This AMR forklift and transporter can also automatically avoid obstacles. It intelligently stops whenever it encounters a human or an obstacle, waiting until the object is removed before automatically resuming motion to complete its task, fulfilling the requirements of unmanned systems. Furthermore, it can operate both indoors and outdoors without being affected by natural light rays, making it ideal for use by logistics and warehousing operators who need to work over large spaces. Coretronic's AMRs currently play an important role in the commercial operations of numerous Taiwanese manufacturers and logistics operators of various sectors. The AMR forklift, in particular, has been deployed by a large Tier 1 supplier of electronic vehicles in southern Taiwan. With the ability to judge whether there are any moving vehicles or humans, it journeys between the indoors of two big factories through the outdoors, even crossing streets on its own. It successfully saves factory staff efforts by autonomously transporting and stacking metal cages totaling up to 2 metric tons.
In terms of business management, Coretronic has already set up enterprise resource planning (ERP), advanced planning and scheduling (APS), and product lifecycle management (PLM) systems to get exact information about the situation on site. Machine monitoring vibration censors, an equipment data network, and fully-autonomous mobile robots, among other OT terminal equipment have been deployed in factories. Recently, Coretronic has integrated these two system categories and by adding logistics into consideration, created a CiLS digital management platform that can single-handedly deal with people, machines, materials, regulations, and the environment. K.C. Yeh, Chief Digital Officer of Coretronic Intelligent Logistics Solutions Corporation, commented that this framework contains everything necessary, from the most basic edge computing and platform as service (PaaS) to the most advanced software as service (SaaS) and other cloud platforms, which enables the company to build the most adequate smart solution tailored to each manufacturer's actual needs. The company's AI technical team has already helped several Taiwanese semiconductor leaders build smart sensing devices that can obtain data from existent OT terminal equipment and integrate vertically with the IT system to form a platform for manufacturing monitoring and decision-making.
Finally, K.C. Yeh said that the production processes and corporate workflows vary largely among manufacturers so there is a large demand for customizable manufacturing systems. Coretronic Intelligent Logistics Solutions Corporation has the ability to provide well-rounded, professional services whether in the deployment of smart technology for an entire new factory or the expansion and upgrade of an existent plant, making possible flexible system planning and assisting businesses to start their intelligentization and digitization with the right step.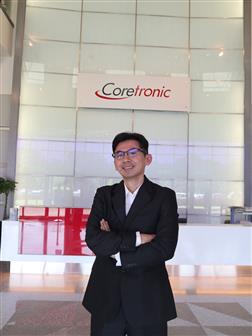 Eric Wu, president of Coretronic MEMS Corporation