Samsung develops LED-backlit LCD panels for monitors with high color saturation
Press release, April 11; Carrie Yu, DIGITIMES
Samsung Electronics today announced it will begin producing a 24-inch LCD panel with an LED backlight that enables monitors to deliver color quality resembling that of the highest-quality TVs later this quarter.
The LED-backlit monitor panel has an color saturation level of 111% (of NTSC standard), compared to a saturation level of only 72% of NTSC for conventional monitors and will satisfy consumers used to the crisp colors prevalent in high-definition (HD) broadcasting, according to Samsung.
The 24-inch screen size is optimal for systems equipped with the Windows Vista operating system (OS). While conventional thinking has been that Windows Vista works best with a 22-inch screen (the size of two A4 pieces of paper), the 22-inch segment is not wide enough to support full-HD. In addition, industry experts now say that a 24-inch display provides a better Windows Vista fit to also include the Vista right side bar and margins.
The new monitor display also features Samsung's S-PVA (Super Patterned-ITO Vertical Alignment) technology that provides the widest viewing angle possible –180 degrees – at the highest contrast ratio for LCD monitors today (over 1,000:1). It also supports WUXGA resolution (1,920×1,200), which is the computer equivalent to full HD resolution.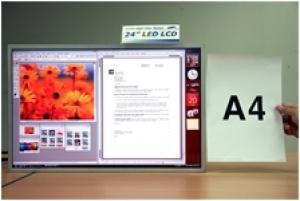 Samsung 24-inch LED-based LCD panel
Photo: Company