Windows Live helps develop new lifestyles based on personalized cloud computing
Press release
According to Sam Chang, program manager, Windows Planning and PC Ecosystem, Microsoft Taiwan, in addition to business information systems, information systems for consumers and social media that provide information sharing are beginning to provide cloud services enabling cross-device and platform Internet access anytime and anywhere. "New generation applications should break the limits of traditional PCs by integrating a variety of web experience for everyone to create a personalized cloud operation environment," said Chang.
In order to achieve this objective, Microsoft has integrated Windows 7, Internet Explorer 9, and Windows Live to help consumers develop their best personalized cloud platforms. "Windows 7-based devices, be they PCs, smartphones, Windows Phone, or even iPhone, in conjunction with Internet Explorer 9 and various cloud applications of Windows Live help create the coolest and immediate sharing with friends online," said Chang.¡@
At present, Windows Live provides not only Hotmail and SkyDrive of 25GB but also Windows Live Essentials, such as Messenger, Photo Gallery, Movie Maker, Mesh, Writer, Bing Bar, and Silverlight, which are all readily available online. "Windows Live is definitely the first ever platform in the world that realizes personal cloud computing," stressed Chang.
Windows Live supports different mobile devices as its applications run on Windows Phone, iPhone, and other smartphones in addition to desktops, notebooks, and netbooks to update Facebook, access Hotmail and PIXNET, upload videos, etc, providing more mobile services that are more convenient to enrich social life as personal information can be simultaneously integrated and updated. "In particular, Windows Live is free and its application services are available online anytime," said Chang.
"Windows Live services and tools help easily create and modify text, graphic, and audio video files and stay in touched with friends," said Chang. "Sharing of newly created or modified files can be immediately completed." For example, Windows Live Photo Gallery provides face recognition and tagging to facilitate photo organization as well as red eye, out of focus, and hue error fixing and brightness compensation. It can even extract the elements from different photo to create composite photos. "With Windows Live Photo Gallery, we can combine the photos of a same scene taken from different angles into a panorama photo and Windows Live Photo Gallery is able to automatically merge the overlap between two photos to make the panorama effect look natural," he said.
Modified photos or audio video files can be uploaded by Photo Gallery to SkyDrive and saved there or publicized on Facebook, Flickr, YouTube, etc for sharing. "The photos and videos to be shared can also be attached to emails and sent to friend," added Chang. Either way is very convenient.
When a same file needs to be processed on different PCs or the information on SkyDrive is accessed or modified, Windows Live Mesh 2011 is available for synchronization between multiple PCs or between PCs and SkyDrive. "The system provide automated comparison to have the same files in PCs and the cloud synchronized and updated to ensure file consistency and to share the latest documents with others," said Chang. Moreover, Live Mesh is able to remotely control other PCs for easy sharing of IT resources and completing intended jobs.
Windows Live also has considerable integration with social media. For example, Windows Live Messenger receives text, graphic and audio video inputs as well as hyperlinks, which are simultaneously shown by the social media, such as Facebook, integrated with Messenger. Friends' updates on Facebook are also immediately shown by Messenger to enable closer interpersonal interaction beyond online chatting.
According to Chang, increased bandwidths multiply information traffic and make the types of sharing between people more diverse, while the functions provided by Windows Live enable information sharing in the cloud to do without complicated technology requirements as Windows Live applications are readily available and no further programming is required. As a result, personalized cloud environments are a reality to provide enjoyment of new lifestyles.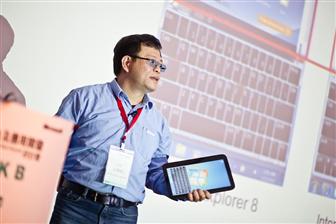 Sam Chang, program manager, Windows Planning and PC Ecosystem, Microsoft Taiwan
Photo: Digitimes
DIGITIMES' editorial team was not involved in the creation or production of this content. Companies looking to contribute commercial news or press releases are welcome to contact us.