Global server shipments are estimated to surge 7.1% on year to 12.65 million units in 2017 and post a higher growth of 8.5% in 2018, due mainly to expanding demand for datacenter servers and significant growth momentum expected in the China market, according to Digitimes Research.
The report said that aggregate revenues scored by Taiwan makers of servers, server motherboards, storage devices and related system network equipment are estimated to soar 15.4% on year to NT$676.2 billion (US$22.38 billion) in 2017, and further shoot up 16% in 2018.
Combined server shipments by Taiwan makers are projected at 11.6 million units in 2017 in an annual growth of 15.8%, and are expected to see another 10% annual increase in 2018. Their combined share of the global server market is likely to trend upward thanks to increasing orders from datacenters and the decreasing server shipments by EMS (electronic manufacturing service) firms.
Among major Taiwan server suppliers, Inventec and Wistron (including Wiwynn) will each see their annual shipments reach 2.6 million units in 2017, and they will both challenge the goal of three million units in 2018, Digitimes Research estimates.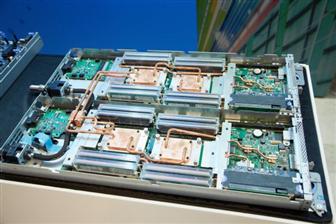 Server shipments are expected to grow in 2018
Photo: Digitimes file photo
This article is an excerpt from a Digitimes Research Special Report (Taiwan server shipment forecast and industry analysis, 2018). Visit our latest Special reports.