Smart machine boxes can be integrated with order management system to better monitor dynamic conditions at production lines and realize the true value of data collection and management associated with the boxes, according to JY Huang, vice president of Impelex Data Transfer, a Taiwan-based system integrator and smart machine box supplier.
Huang said that smart machine boxes are usually adopted by manufacturers short of digitalization capability for production upgrades. The boxes and sensors can be combined to collect, process, store and transmit production data.
But general smart machine boxes cannot address the issues of when shipments can be delivered or whether production progress can meet shipment schedule, Huang said.
To fix the issues, she continued, Impelex has developed smart machine boxes that can integrate order management system, warehouse management system, distributed control system (DCS) and equipment management system into enterprise resources planning (ERP) system.
This way, manufacturers can figure out optimal equipment utilization based on order fulfillment needs while effectively improving production efficiency, Huang indicated.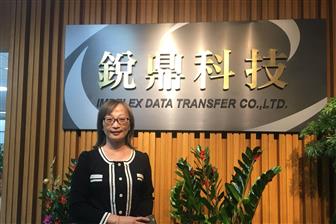 JY Huang, vice president of Impelex Data Transfer
Photo: Chloe Liao, Digitimes, December 2018