As a co-inventor of the technology that powers hundreds of millions of units of Kindle and an inductee of the National Inventor Hall of Fame in America, Barrett Comiskey, founder and CEO of Migo, could have retired young and enjoyed a comfortable life after selling E-Ink, his first company. However, it did not take long for him to embark on another innovation journey to solve the same problem that Google Loon and low-earth orbit satellite companies are trying to solve.
"With E-Ink, we modernized the publishing industry, to make it easier for people to read books, catering to the top 10 percent of the world. Migo is basically the same thing, using technology and consumer-centric innovation. But its goal is to close the data divide by making digital participation for 3 billion under-innovated people worldwide possible and affordable," said Comiskey.
Comiskey founded Migo, an innovation company, to exclusively focus on emerging markets to realize that goal in 2009. It has received backing from Temasek, Steve Chen, YouTube's co-founder and CTO, blue-chip VCs, and key industry insiders. However, it wasn't without challenges for Migo. They first did technical iterations in the Philippines, where they proved the technology and the product. Ultimately, they couldn't find the right partner there and made the decision to pivot to launch the service in Indonesia.
Investment from MNC Group in Indonesia
Migo was launched in 2020 in Indonesia. Its initial product is sachet passes providing customers access to entertainment and education content at neighborhood clouds, or Migo Downloads Stations (MDS), which are installed in existing corner stores near where most of the people live and work. The business model quickly won the endorsement of Hary Tanoesoedibjo, executive chairman of MNC Group, the largest content provider and broadcaster in Indonesia. The basic 1+1=4 idea of Migo and MNC is to combine MNC's vast resources with Migo's unique technology to accelerate the digitization of the Indonesian market and bring them into the rich digital century today. Migo will distribute MNC Vision Networks' (MVN) Vision+ content, while MVN invests $40 million in Migo Indonesia to accelerate the national rollout and digitization in the country.
The strategic partnership with MNC is an important turning point for Migo because that has proven that Migo works best as a last-mile option to reach the vast population that cannot afford other services available. MNC has tried cable, satellite, etc., and just could not bring the cost down. As Tanoesoedibjo said in their signing ceremony, "We found Migo an outstanding platform for our services. It is cheaper, faster, and clearer."
Comiskey's vision for Migo is to be the go-to brand like a 7-11 for affordable, high-quality data access services in emerging markets and change the lives of 3 billion people by accelerating their digital experiences across entertainment, education, e-books, music, gaming, financial services, anything that doesn't require a real-time connection for the next 5 years.
Unlimited data for 5 cents a day
Currently, Migo has more than 500 MDS locations across Jakarta and aims to expand to 1,000 by the end of 2021. The scale will continue to grow 10 folds by the end of 2022, to cover 100 million people in Java, the world's most populous island. In addition to its cornerstone partnership with Vision+, Migo Indonesia also carries entertainment content from a range of top local and international producers (including Korean Dramas), and educational content from the best Indonesian EdTech players, as well as from the Ministry of Education, Culture, Research, and Technology.
"Almost every Indonesian has a few of these, a thousand rupiah." Comiskey takes out a 1,000 rupiah coin (the coin with the lowest value in Indonesia, valued around 5 US cents) during the signing ceremony with MVN and said, "That's the price of Migo per day for unlimited data."
"Capex per subscriber is about $1-$2, and operating cost per customer of 5 cents, we are already super-cheap, bringing it through WiFi, and continue to innovate to optimize our hardware, software, and the efficiency of the algorithm," said Comiskey.
Internet access cost is very expensive in Indonesia. According to World Bank, Indonesia's income per capita is $4,450 a year, but cable TV and internet access package can cost as much as $40 per month. Nevertheless, optic-fiber cables are not readily available to all families in the archipelago, where there are more than 17,000 islands. According to Tanoesoedibjo, the average TV viewing time for an Indonesian family is 5 hours a day. "Just imagine how much they have to spend if they have to watch it on a smartphone every month," he added.
Migo uses a proprietary and secure national satellite broadcast to do internal distribution of their content, and all the MDS constantly update with fresh content through a dish and store the data locally in servers as small as a box. This way, they can cover the whole archipelago with no incremental cost for each new location.
The low-earth-orbit (LEO) satellites nowadays are trying to solve the connectivity problem of rural areas, but subscription to their service costs $100 a month so far. Yet Comiskey said Migo is open to considering future innovations with the LEO satellite technologies as a backup solution for areas that are hard to reach.
"As various groups develop efficient data delivery technologies, we will integrate them to make our solution even more available and affordable in a secure, DRM (Digital Right Management) way," said Comiskey.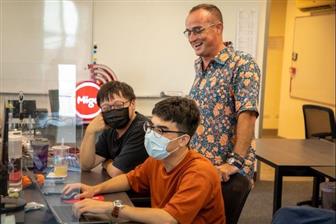 Credit: DIGITIMES
Twice as a disruptive innovator, Comiskey has some advice for young entrepreneurs and innovators
Comiskey said as follows:
It is easy to get enamored with the latest and greatest technology stacks. It is useful to stay up to date. You leverage state-of-the-art technology, but it is vastly more important to deeply understand the customer problem that you are trying to solve.
Technology is just a tool for you to solve the problem. It is a service to a holistic system to solve consumer pain points. Migo is not just a box. It is hardware plus software, plus business model, plus distribution, plus brand, etc. They are all just tools in your workshop to build something. Try to think of yourself as a carpenter in a workshop, where you will learn how to use a tool. And you need to be close to your consumer, really spend time with them, use design thinking, or whatever tools you want to use, to do consumer-centric innovation. To do that, you need to think about the business model and the entire value chain, to find partners with who you can co-innovate and have an on-ground presence or in whatever markets you want to go after. Co-create benefits for everybody, but make sure you carve out a piece of it that is flexible for your company.
Our goal is to be a role model and case study for Taiwan, leveraging hardware engineering, supply chain, and nascent data management, product development capabilities we have on the island for people that think bigger than the hardware and the gadget. We have the goal to grow beyond Indonesia and build a very important global company that continues innovating and leveraging domestic resources to solve thorny problems in the broader Southeast Asia region and other big, wide-open markets. We have an ever-expanding team of great local talent who are aligned with that goal.
We have spent many years building on-ground innovations, user-research teams, using modern best practices to do need-finding, focus groups, and testing in the Philippines and in Indonesia. That was an investment that we've made.
Apple is an iconic example. They did a fantastic job putting all these things together. The brand, the hardware, the software, the UX, the distribution, the marketing, the app store, etc. There are around 1 billion people who use iPhones. Netflix has 200 million+ families subscribed to their service, so that's around 1 billion people as well. Nestle and Unilever serve around 3-4 billion people around the world.
Putting the whole tech stack aside, cost-efficient data delivery at retail, for billions of under-innovated consumers is a very exciting project. If you can solve it, it is actually a very robust solution. It is not "Silicon Valley-exciting," but it solves problems for real families. Why do I want to build a 7-11 convenience-store-like solution? Because people will remain price-conscious when they shop in these stores for the next few decades.
| | |
| --- | --- |
| Fact Box | |
| Company Name | Migo |
| Founded in | 2009 |
| Fundraising status | Series B (planning to raise Series C by mid-2022) |
| Scale | ~200 people |
| Founders and core management | Founder & CEO Barrett Comiskey |
| | President: Chris Reynolds |
| | Indonesia General Manager: Dan Connor |
| R&D, Engineering and Supply Chain Center | Taipei, Taiwan |
| Operations Center | Jakarta, Indonesia |