Over the past 36 years, I have learned quite a few lessons from Taiwan's electronics industry development. One of them is that only through "sharing" and "reciprocity" can we achieve win-win situations.
When I returned to Taiwan in 1985, it was the start of the age of PC and the inception of a new generation of Taiwan's electronics industry. There was a foreign tech consultant in Taiwan's government at the time - Bob Evans from IBM. He suggested to Taiwan's authorities that Taiwan had to stop illegally duplicate Apple computers. Instead, Taiwan could pay royalties to make IBM-compatible computers, a proposal that paved the way for Taiwan to embark on mass-production for PCs. That year Microsoft introduced Windows software to make it easy to learn and use PCs. Intel launched 386 CPU the following year (1986). Allowing the manufacturers to simplify the design, Intel provided a reference design to connect Southbridge and Northbridge. This beefed up strength of quick-learning Taiwanese firms dedicated to manufacturing.
US companies like IBM, Microsoft and Intel taught Taiwanese how to make computers. Taiwanese demonstrated their talents in mass production of electronic products. It was a win-win partnership. According to a recent survey of DIGITIMES, 11 of the world's 53 major EMS manufacturers are from Taiwan, on a par in number of those from the US and Canada combined. In terms of production scale and output value of more than US$10 billion, six of the top-9 firms are Taiwanese. The contribution ratio of Taiwanese firms is as high as 75%, which suggests that Taiwan's businessmen occupy a unique position in the supply chain of the global electronics industry.
The secret to Taiwan's success lies in its "harmless" position. Taiwanese firms always focus on contracts from businesses as their harmless partners in boosting the industrial ecosystem. Their faithful roles duly echo the slogan "Taiwan can help" now publicized by the Taiwanese government in tackling COVID. The regional markets are emerging, and the industry has entered a decentralized production system. The present challenge for Taiwanese firms is to construct the most efficient production system in the shortest possible time in line with the cost structure.
Compared with EMS manufacturers in Europe and the US, Taiwan is good at controlling production costs, and its ability to manage variable costs of expense accounts is second to none. Taiwanese businessmen often mock at themselves, saying their profits are roughly equal to the "expenses" incurred by their EMS counpterparts in the US and Canada. The challenge of their factory relocation to ASEAN, South Asia and even the US and Canada is not only cost control but the management of expenses. Since local cadres may stick to their local concept of cost, expense management is usually crucial to business success. For Taiwanese businessmen, strategic partners most desirable when they set up factories in countries like India are those who can provide local management experience to control expenses well.
We all recognize the fact that the higher the proportion of local production, the higher the added value it can generate. Taiwanese businessmen don't have to do the whole nine yards, exemplified by the partnership 36 years ago when IBM, Microsoft, Intel backed up Taiwan's industry. On the other side of the coin, without Taiwan's support, Intel couldn't have sold so many CPUs, nor could Microsoft have made hefty profits on its Windows licensing business. Royalty payments to IBM sound much like a patent fee mechanism designed for IBM by Bob Evans. Today, Taiwanese firms run the world's most rewarding mass production system. For local enterprises, partnerships with Taiwanese firms are like "a stitch in time saves nine." Taiwanese firms should also put in the shoes of local partners and provide them more assistance.
In the long run, everyone wins. Today's Taiwan has the ability to participate in the changing global supply chain with a win-win perspective. The time of order-driven business is forgone. Visionary industrial leaders should help other countries establish basic production capacity. Facilitating the implementation of the division of labor in regional markets is Taiwan's best strategy.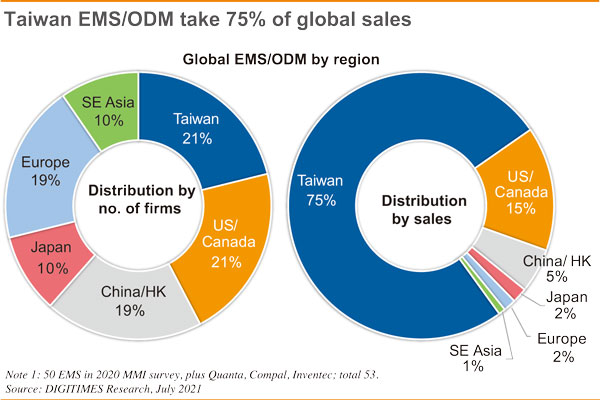 (Editor's note: This is part of a series of analysis of Taiwan's role in the global ICT industry.)