Many people can talk about digital transformation, but only a handful of them can put it into practice.
My latest book, "Orient Shield" has just been released. I asked Stan Shih, founder of Acer Computer, to write a preface for it. Since I was in my 30's I have had many opportunities to be on stage with Shih, and even delivered lectures to him. But I'm deeply aware that Shih has rich practical experience, wisdom and courage in tackling problems - something that is far beyond my reach.
Acer has undergone transformation several times, though not regarded as successful every time. Without wisdom, strong minds and tolerance, it is impossible for an enterprise shouldering the livelihood of thousands of employees to survive transformation each time. It is especially so since Acer is an iconic brand facing end users every day.
In 1998, with the support of Shih and other industry leaders, I founded DIGITIMES, publishing a newspaper on IT technology that was "harmless" to others in the media community. Prior to starting my business, I was the director of the Market Intelligence Center (MIC, now known as Market Intelligence & Consulting Institute). I have done a lot of industrial research, consulting, and conducted industrial statistical analysis on Taiwan's IT industry. Despite having these experiences, I still have had to fumble around on my own. I often joked that DIGITIMES survived the dark ages of the media because I had never had experience in managing media business. Because of the inadequate experience, I could only rely on textbooks or the experience of others to run my business.
But the past 20 years have been a crucial period for digital transformation. The basic concept of digital transformation consists of four elements: optimized operation, products transformation, customers engagement and employees empowerment. I regard these essentials as guidelines and put them into practice. As an entrepreneur, I won't cling to the dogma. Besides comprehending the four elements, we should first ascertain our own business model. We then accumulate our own digital assets applicable to these business models.
This is my most important experience in running a business during the past 24 years. I don't care what the media community has done. I just keep in mind the principle: Don't look at the scoreboard when I play.
I set up a data bank to incorporate all the news reports since my first day in the media business. I'm convinced that the Internet is not only a channel for real-time news, but the best data bank. Google's success has validated such an experience.
But we cannot duplicate Google's model to develop Taiwan's "Baidu," constrained by Taiwan's small market size. The only feasible approach is to focus on B2B and forget about the applause we might hear from B2C. To convince core customers of the B2B market, we set up a research center larger than the news department. We have been compiling more than 300 research reports a year along with nearly 100 daily news reports to forge a data bank. Complete service plans are available with a payment mechanism.
If asked how I run my business, and I'd reply: "Focus on what you are good at and convince your big customers." Customers are always our best mentors. Customers are willing to teach you and pay a good price to support you. Business is not sustainable without a core value to support the whole operation.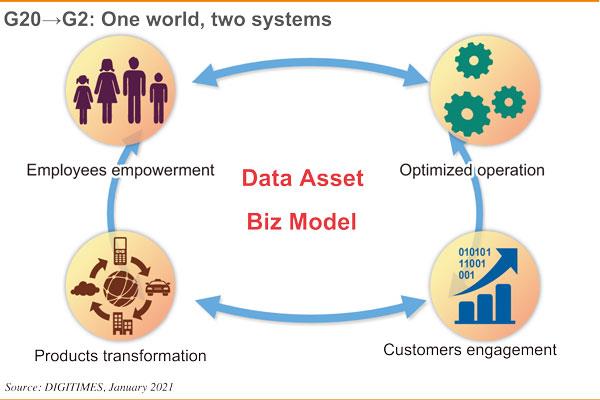 (Editor's note: This is part of a series of analysis of Taiwan's role in the global ICT industry.)