GDP is an important criteria to measure a country's income and social structure. GDP is the concept of added value. The total amount of GDP is equivalent to the total added value created by all citizens of that country. We can roughly come up with contribution ratio of our enterprise to the state and society by dividing our enterprise's added value by the total value of GDP. As far as I know, TSMC's contribution ratio should account for more than 5% of Taiwan's GDP, compared to 0.2-0.4% Foxconn, Quanta, Pegatron and Wistron each.
The enterprise's added value ratio incorporates net operating profits, tax, employee salary, bonus, equipment depreciation, rent and capital costs. Taiwan's large-scale electronics manufacturers are all publicly listed. Check the financial statements, and you can roughly calculate the value of contribution of individual enterprises to the country and society. In general, the added value ratio of large electronics manufacturers may be around 15% of turnover, but the proportion of the industrial computer sector is relatively higher. The media or professional service industry lies between 60% to 80%, to take DIGITIMES as an example. The key difference lies in the salaries and bonuses paid to "local employees." Thus, the quality service industry is a significant indicator of national development.
Recently I visited Chaney Ho, who had just taken office as president of Tatung. Ho and I have been friends for years. I said that a century-old enterprise like Tatung is capable of reviving the wonderful memories associated with Tatung. As compared with the export-oriented manufacturing industry, 91% of Tatung's revenues come from the home market. The value-added ratio of Tatung should be much higher than that of other enterprises in the manufacturing industry.
In the past, we had to earn foreign currencies from information technology, and now we use it to improve people's quality of life. For some time, many have criticized Tatung's business model. If we are willing to justify Tatung's contribution in household management systems, smart meters, industrial motors, etc, perhaps we are willing to give Tatung a new chance.
Founded in 1918 after the First World War, Tatung is the only century-old enterprise in Taiwan's electronics industry. Tatung has gone through the Japanese colonial era, followed by political turmoils, cross-strait confrontations and Taiwan's transition from the agricultural era into an industrial and commercial society.
Everyone has a nostalgic feeling about Tatung's iconic rice cooker. In the 1960s and 1970s, housewives who burned the candle at both ends could cook without using firewood and saved at least half an hour every day, thanks to Tatung's rice cookers.
From the perspective of its contribution to our leisure time and family life, Tatung's rice cookers should not be evaluated simply by "price," but the "value" the product has brought us during the time of need by Taiwan's society.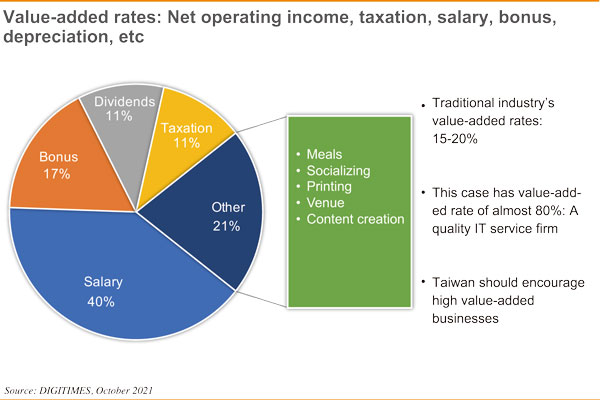 (Editor's note: This is part of a series of analysis of Taiwan's role in the global ICT industry.)