The automotive industry is renovating and electrifying its products to reduce carbon emission, stimulating innovations with batteries. Japan-based startup PJP Eye is one of the innovators in battery technology, who have collaborated with Kyushu University for over a decade to develop non-explosive, non-toxic, and non-pollutive batteries.
PJP Eye won second place among 10 finalists at the pitch contest at the UN COP26 in 2021 as both the public and private sectors attempt to tackle climate issues by achieving carbon neutrality. The company joined Garage+, an incubation project for startups initiated by the Epoch Foundation, to unlock the door to the global EV market.
Speaking with DIGITIMES, PJP Eye's global sales manager Viktoriya Shirota said "ordinary people don't know how lithium batteries can spark toxic and fatal fires at the dumpster when they throw the batteries in a garbage can."
The Cambrian battery, co-developed by PJP Eye and Kyushu University, uses organically-sourced carbon from cotton waste. Besides the material being organic and safe for the environment, Shirota stressed that they have signed a fair-trade agreement with their suppliers to pursue trade ethics. They use copper and aluminum for battery casing instead of rare earth metal and reject materials from where human rights abuse or child labor are involved.
Used in high-performance e-bikes and land-based wind turbines
Cambrian battery is best suited in vehicles and power storages and PJP Eye now focuses on using the single carbon battery in personal and shared mobility for moms and tourists in the urban areas while working with academic and governmental institutions such as Warwick University, governmental bodies in the UK, and Southeast Asia for new innovations and new solutions. They see opportunities to partner up with Taiwanese battery or module makers as well.
In Kyushu University, unique-shaped wind turbines are stationed everywhere on campus right under which students can casually walk around. The innovative turbines, combined with PJP Eye's Cambrian battery, are designed to co-exist with humans and birds. Shirota said Riamwind's new generation of wind turbines along with their environmental battery solution makes a safe and compact solution for wind energy.
Another important application of the Cambrian battery is the e-bike. Known as "Mama Chari", the e-bike produced by Maruishi – a 126-year-old bike manufacturer in Japan, uses Cambrian battery modules and is a convenient alternative to bicycles for urban Japanese moms to carry children and groceries around the city.
Shirota said a usual e-bike takes 3-4 hours to charge, but the e-bike using a Cambrian battery takes only 20 minutes to charge, not to mention that the Cambrian battery has a lifespan of more than 20 years while lithium battery lasts only 3-4 years.
Dual carbon battery for EVs
Viktoriya noted that the carbon-based battery is highly heatproof and can be used in dessert without needing a cooling system. Their research team is now developing dual carbon batteries that can be utilized in EVs and power storages and it will take 2-3 years for the dual carbon batteries to enter mass production.
Given its long lifespan, high performance, and fast charging time, the Cambrian battery is also the perfect solution for people living in remote areas where electricity supplies are not stable. PJP Eye provides a power grid system using a Cambrian battery that gives rural residents access to education, medical care, and even business opportunities. It is through such a "grassroots economy" that they can empower local communities and help them grow out of government subsidies.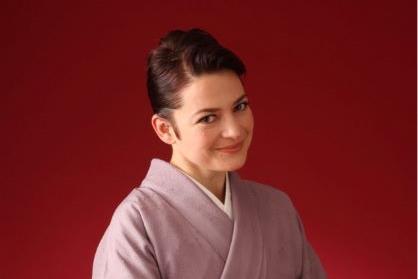 Viktoriya Shirota, PJP Eye's global sales manager