CES 2011: TI announces DLP Pico HD chipset
Press release, January 6; Yvonne Yu, DIGITIMES
Thursday 6 January 2011
At the International Consumer Electronics Show (CES), Texas Instruments (TI) has unveiled a new era for portable high definition (HD) entertainment with the new DLP Pico HD chipset. Born out of years of research, the latest chip to feature DLP Pico technology showcases HD (WXGA) video and images on nearly any surface, with more brightness and greater energy efficiency than ever before, TI said.
"The new DLP Pico HD chipset provides the ultimate combination of the best image quality in the smallest size, and is poised to revolutionize the worlds of consumer entertainment and mobile enterprise solutions," said Frank Moizio, manager, DLP Pico projection. "Never again will mobile professionals be caught without the ability to share their vision, as this new chipset enables the brightest projection products that can be easily stored and carried in a laptop bag. Even more exciting is that it opens tremendous opportunities in the world of entertainment - from greater than 100-inch HD video from the palm of your hand - to a wide variety of new entertainment devices that allow consumers to enjoy big picture HD experiences in a snap, anywhere, anytime."
Multiple manufacturers and brands will be at CES showing products with DLP Pico technology inside. Among them are Acer, Dell, LG, Optoma, and ViewSonic, who will be showing the first products based on the new HD chipset, TI said.
TI's CES 2011 events:
• Pepcom's Digital Experience! – Wed. January 5, 7pm PT (Caesars Palace)
• DLP Pico demo suite – January 6-7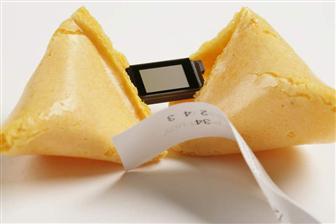 TI's new DLP Pico HD chipset
Photo: Company