The trade war in the solar market does not seem to be stopping. Following the anti-dumping and anti-subsidy tariff levied on China-based firms from the US, the EU is likely to follow suit with a tariff rate above 30%. If this tariff comes into effect in June, Taiwan-based solar firms are likely to benefit. According to Sam Hong, president of Taiwan-based Neo Solar Power (NSP), if the tariff is above 30%, it will effectively curb domestic production of solar modules in China.
According to a report by The Wall Street Journal on May 9, Karel De Gucht, trade chief of the EU, proposed that punitive tariffs against China-made solar panels and components be in the range of 37.3-67.9%. According to the same report, China-based solar imports account for 80% in Europe's solar market.
China is not happy about this.
Another report by The Wall Street Journal published on May 9 stated that a spokesperson for China's Ministry of Commerce said "China resolutely opposes plans by the European Union to impose punitive tariffs on imported Chinese solar panels and will protect local companies." Yao Jian, the spokesperson for the ministry added that China does not want to see a trade war.
The same report noted that according to a copy of plans drafted by the European Commission, the tariffs will come into effect on June 6 and solar firms such as Suntech will face rates of 48.6%. The report added that according to the same document, tariffs on LDK Solar, Trina Solar, and JA Solar will be 55.9%, 51.5%, and 58.7%, respectively.
A commentary from China's official news agency Xinhua News detailed the trade value between the EU and China in the first four months of 2013 in order to show that China is an important trade partner for the EU. In addition, the report said, "The notion that china will do nothing and quietly accept the duties is unrealistic." The report also stated their could be possible damage to the job market in Europe if the European Commission decides to set tariffs above 60%.
China is not the only one opposing the tariffs. The Alliance For Affordable Solar Energy (AFASE), a Europe-based coalition of 450 Europe-based solar companies, sent an open letter to De Guct expressing concerns over the duties which the Alliance believes will hamper the growth of solar energy in the EU, according to Australia-based solar news media Energy Matters.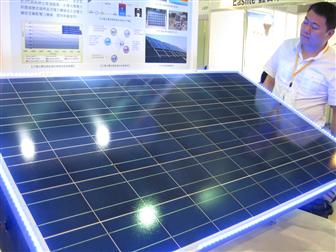 Europe may levy tariffs on China-made solar panels in June
Photo: Digitimes file photo