Is the global capital market getting flat? Are late-stage investors chasing early-stage startups a new trend or a fad? Is Rivian SPAC reasonably valued? Experts discussed these questions at the fifth round of Asia Venturing, a monthly event co-powered by Anchor Taiwan and DIGITIMES.
Alex Lee, founder, and CEO of Quantum International Corp. (QIC), and Duncan Davidson, Bullpen Capital co-founder and general partner, offered their insights in the panel, moderated by Sonia Sun, senior counsel of KPMG.
Sun asked why some "unorthodox investors" such as PE and hedge funds started to invest in early-stage startups. "The world is flat, and the capital market is even flatter," said Lee, who has witnessed the process of liberalization of Taiwan's capital market over his 30 years of career as an investment banker and GM at Taiwan's largest securities company. He argued keen competition for return was the reason for a late-stage capital to chase after early-stage deals.
Davidson has another interpretation drawing from his experience during the dot-com craze in the late 1990s and early 2000s. "It is usually late at the cycle that PE firms started coming down, … they came down with knowledge from a different scale of the company, they know exactly what the public equity investors want, but if they come in too early, that becomes a curse. So be very careful."
He stressed the phenomenon of late-stage money chasing early-stage startups is not a "trend," but it is important to recognize the fact that venture capital has always been a "cyclical" business – all technologies are in a boom-and-bust cycle, followed by a consolidation. Davidson said, there will always be a phase of getting new technology introduced at scale, and there is a stage where winners emerge, and all the money pounce on them.
The dot-com bubble burst resulted in a higher threshold for IPO in the US, and hence more and more companies decide to delay their IPOs. And investors are also trying to bet on companies that are more likely to become unicorns. That is the "post-seed" strategy Davidson advocates on investing in companies that have scaled up to a certain level and spot the best ones early on to get better returns.
Small startups getting attention
But Taiwan's startup size is too small, with valuation normally ranging between US$100-500 million before going public, hence easy to get ignored. Lee said his company QIC has observed significant changes over the past few years when hosting a "CEO Week" event to connect local startups with international investors. "We start seeing more and more late-stage public equity money coming to Taiwan, looking into these small, startup companies," he said and suggested Davidson and other international investors connect with the cash-rich corporate VC funds of supply-chain hardware companies in Taiwan and help them do early-stage startup investments to explore new opportunities not just in Taiwan but also overseas.
EV-related companies are a better fit for doing SPAC to get listed, whereas the software-as-a-service (SaaS) type of firms should just go through regular IPO processes, advised Davidson.
"Taiwan should be in the center of global supply chains as the West's interest in China subsides during the US-China dilemma, and Taiwan should figure out how to do better by building up an ecosystem of innovation by emulating Korea, Singapore and Australia, including changing the risk-averse mentality," said Davidson.
Software, software, software
Another trend Davidson identified is seed investing. He pointed out that due to the open-source software, the cost of starting a company is just a fraction of what it used to be. And that led to a great explosion of deals and seed funds designed to put in the $500,000 check. "Now, that trend, I think will continue for as long as it's inexpensive to start a company," said Davidson.
"Building a very good future headset is a perfect thing for the supply chain leader to do – Taiwan came up with great VR/AR headsets, why not try that?" Davidson also pointed out that Taiwan is strong in gaming, and the whole VR experience can probably start in that community.
Although there are people saying that the party of the capital market may soon be over, Davidson's answer is that if there are still new creative ideas surprising people every day, the market boom could go on. "And it looks like corporate SaaS still has a way to go, maybe only 40% of the things that could be turned into SaaS have been done."
Lee echoed with Davidson by saying, "Anyone asked me where you want to put money to work for now or two to three years? My answer is always 'software, software, software." Taiwan has good software talents building creative solutions, and the software-based new economy will be a future engine to Taiwan's economy, said Lee. "Although Taiwan's semiconductor industry is rock solid, it doesn't represent the future."
However, Lee also stressed that the IC-design companies, or fabless firms, were able to shine, partly because they have companies like TSMC and UMC as enablers to materialize their design.
"It took 30 years to make TSMC today. But if you look at TSMC's financials 25 years ago, it was just another startup company." Lee said, the change of the supply chain during the Trade War and the Covid-19 pandemic brought the change of the global supply chain and woke the world up to rediscover the value of Taiwan.
On a final note, Lee challenged startup entrepreneurs to be fearless. "Difficulty is a middle name for the founders, difficulty is the main reason you can outperform others. Or do you want to get a stable life working for TSMC? That is not the nature of entrepreneurship."
Although Taiwan still lacks software or internet giants in the front seats of market cap ranking in the Taiwan Stock Exchange, progress in investing in the software space is palpable. According to data from QIC, about 130 software companies in Taiwan raised a total of $4 billion over the past 5 years, which is 400% larger than that raised in the previous 5 years in the decade.
There are pure software companies such as Kdan and 91 App that have successfully raised B-round funding or went public this year. Anchor Taiwan founder and CEO Elisa Chiu also mentioned in the opening that AI firm Appier was listed in Tokyo, Just Kitchen got IPO in Toronto, while Gogoro is seeking to be listed on Nasdaq through a special purpose acquisition company (SPAC), all happened in the first 10 months in 2021. The momentum is there.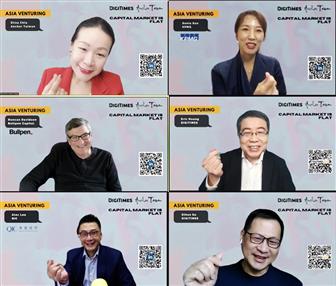 Clockwise: Elisa Chiu, Sonia Sun, Eric Huang, Ethan Su, Alex Lee and Duncan Davidson.
(Editor's note: Asia Venturing is a series of monthly roundtables with roadmaps to the future focusing on the hype v.s. the reality of Asia's supply chain-boosted innovation ecosystem, jointly powered by Anchor Taiwan and DIGITIMES. We bring together leading industry luminaries, corporate strategists, experienced investors, and entrepreneurs to expand your network and redefine the possibilities of cross-border opportunities. The replay of the latest session can be seen on Anchor Taiwan or DIGITIMES)