Recent messages from friends in IT industry indicate that: commercial notebook sales continue to grow; consumer notebook sales are declining; high-end gaming PC demand remains on a growth track; server demand still strong; and everybody is upbeat about EV's business potential.
DIGITIMES Research recently gave an internal briefing on the climate of the server and notebook industries. The data echoed the current market situation. Since Taiwanese firms cover more than 90% of the global server supply chain, basically if you manage to grasp the supply-and-demand status of Taiwanese firms, you can generally understand the world's market trends. According to DIGITIMES Research, Taiwanese companies are expected to produce nearly 17 million servers in 2021, which mainly go to tech giants such as Facebook, Google, Amazon and Microsoft, as well as brand vendors such as HP, Dell, Super Micro, and even China's Inspur, Lenovo and Huawei.
The server industry has been changing in recent years. The business opportunities from large Internet companies which deploy cloud services and data centers are emerging, thanks to the surging market demand. Traditional iconic brands such as HP and Dell switched to upscale markets and system integration services, which are attributed to their long-term commitment to telecom operators. Market differentiation is taking shape. Worried about the effects incurred by US-China tensions, China-based Inspur, Huawei, Lenovo are developing in-house microprocessors and AI chips with production expansion plans. This will more or less exert an impact on the market share of Taiwanese firms.
Servers as well as commercial notebooks have not been significantly affected, although TV and tablet markets are undergoing a sales slump. Sales of servers are predicted to grow at nearly 20% in the final quarter of 2021. Output in third-quarter 2021 was 4.48 million units, with a sequential growth of 8.5%, and it will reach 4.59 million units in fourth-quarter 2021, with a sequential growth of 2.4%. The annual growth rate was 5.4% in the third quarter and will reach 19.5% in the fourth quarter.
In the server industry there is the so-called "Big Three" incorporating three core functions: computing, storage, and networking. The components shortage related to the respective functions is between 5% to 10%. More critical is the shortage of active components such as PMIC and PLC. The shortage of the passive components is not as serious though.
The output of servers is expected to reach 18.07 million units in 2022, a slight sequential increase of about one million units. Taiwan's biggest customers are Facebook, Dell, Amazon, and HP followed by China-based Inspur, Lenovo and Huawei within the top 10. Makers' relocating their server production bases is taking shape a bit differently from that of the notebook sector. Although we've seen notebook makers move their production from coastal regions to Chengdu and Chongqing, both in southwestern China, in the past, the server production operations remain in eastern China. In addition, some manufacturers have been mainly serving the US customers, and any move of production away from China will mostly pick Taiwan as the destination of relocated plants. In the short term, since Taiwan still has sufficient capacity, the server industry's production system will not change much.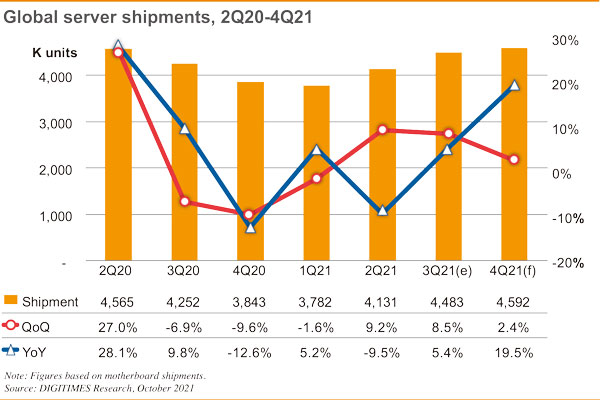 (Editor's note: This is part of a series of analysis of Taiwan's role in the global ICT industry.)