We understand that the semiconductor processes upgrade from 90nm to 28nm relies on "copper interconnect" technology. Low dielectric insulators and high dielectric metal gate materials have received much attention. From 28nm to 16/14nm and 10nm, the focus is on structural innovation. Everyone refers to FD-SOI, FinFET architecture. Progressing to the cutting-edge process of 7nm and below, industrial players of course hope to gain the advantages of both to achieve a breakthrough in the node process technology. Therefore, besides EUV lithography, it is essential to explore structure innovation on GAAFET and make a breakthrough in the material innovation of boron nitride (hBN) and transition metal dichalcogenides. This is what we understand the innovation path of the node process technology.
This is the evolution model of all tech industries in terms of technology and business strategy. We usually pick an approach from a couple of options and make all-out efforts for a breakthrough. Applying old practices may get you stuck in the rut, and incur formidable challenges from aggressive competitors. Ceaseless innovation is the way to keep Taiwan's fab foundries unrivaled. We've seen such cases quite often.
Take the PC industry as an example. Hoping to create greater value, the enterprises that used to solely run brand business now have rolled out new integrated business plans. OEMs no longer bow to brand vendors' pressure, tapping into cross-industry businesses and capitalizing on market segmentation opportunities. Vendors like HP and Dell, facing pressure from AWS, Facebook and Microsoft who are aggressively building their own datacenters, must take some actions. It's common within the EMS community to talk about smart health care and industrial control businesses. We can no longer look at Wistron or Qisda from the traditional perspective, and even Hon Hai Group (foxconn) is making massive investment in industrial control and EV businesses.
It requires tremendous resources to sustain the semiconductor industry. We are all aware it takes billions of dollars to invest in an advanced semiconductor production system. Taiwan is unable to uphold the entire industrial system on its own in the long run due to its limited resources. What if Taiwan partners with the US, Japan, Germany, and even India and ASEAN to establish multiple regional production ecosystems? Taiwan can also lessen operating pressure in management, environmental and power costs.
In particular, the Taiwan-Japan relations relieve the pressure from the US on the one hand, and on the other hand, Taiwan is an important bargaining chip for Japan to balance Japan-South Korea industrial relations. It is natural for Japan to ally with friendly Taiwan in the absence of advanced node process technology. Moreover, Taiwan and Japan have been interdependent and reciprocal in terms of talent, equipment and materials.
Taiwan is no longer the new kid in town. At least in the semiconductor and ICT supply chains, Taiwan is on par with Japan. How to redefine the new value propositions and cooperation mechanism is a topic for the Taiwan government and industrial community to explore from multiple dimensions in facing the new global situation.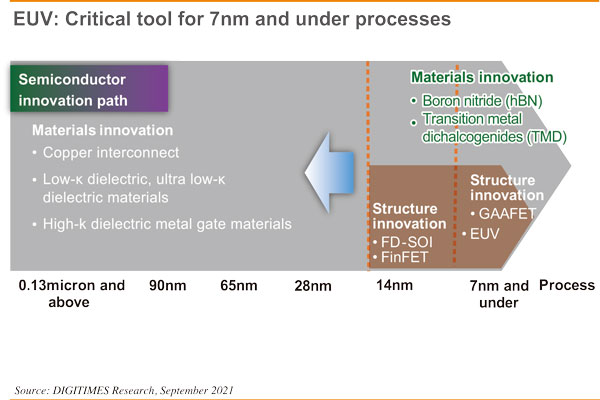 (Editor's note: This is part of a series of analysis of Taiwan's role in the global ICT industry.)