In 2001, the PC-centric industrial structure started to evolve to a new era of mobile communication constituted by PCs, mobile phones and netcom products. The booming manufacturing industry has nurtured the development for upstream component industry, which has led to the rise of the semiconductor industry. In the past 20 years, diversified development and economies of scale of the science and technology industry have been the greatest achievements in the history of the development of emerging countries in the Asia-Pacific region.
Since 2001, China, South Korea and Taiwan have participated in the WTO. The Asia-Pacific industries have deeply merged into the world system. In the wake of the 2008 financial disaster, consumers cut back on spending. Industrial changes and the market demand were basically within the range of corporate anticipations. It is fair to say that the past 20 years have been a golden era of supply/demand balance.
However, the evolution of the global economy in the last three years has brought us more new issues.
IOT, EVs, US-China tensions, hardware-software integration, localization, coupled with the rise of scientific and technological nationalism have confronted the supply chain with problems of decentralized production mechanism. Northeast Asia's ICT manufacturers and semiconductor industry are also key partners whose collaboration has been keenly sought after by various countries.
According to DIGITIMES statistics, the combined revenues of seven major Taiwanese IT companies, including TSMC, Hon Hai (Foxconn) and the top-5 EMS firms, reached NT$8,693.6 billion (US$312.41 billion) in the first three quarters of 2021, a sequential increase of 13.3%. If the growth rate is used to project the growth rate of Taiwan's IT industry in 2021, the revenue of Taiwan's publicly listed IT companies would exceed US$900 billion in 2021, and Taiwan could usher in a new era of US$1 trillion in output in 2022.
But behind the impressive figure is the mounting pressure on Taiwanese firms facing the dilemma of surplus funds chasing limited goods because of shortage of parts and occasional supply chain disruption. Under the pressure of uncertainty, international investments will be diminishing. The weight of local services and value is expected to increase. Enterprises will seek more opportunities in different value chains. System integration and software-hrdware integration will be forged. ESG issues related to energy conservation, carbon reduction and labor shortage will exert intense pressure on the supply chain, which is also making smart manufacturing a hot topic of industrial transformation.
This is the time of change. The good old days of stability are gone. Taiwan is bound to join and embrace the new era of disruptive innovation along with opportunities for development. The experience accumulated over the past 20 years not only empower Taiwan to stay competitive but considerably assist other countries to implement the industrial development foundation.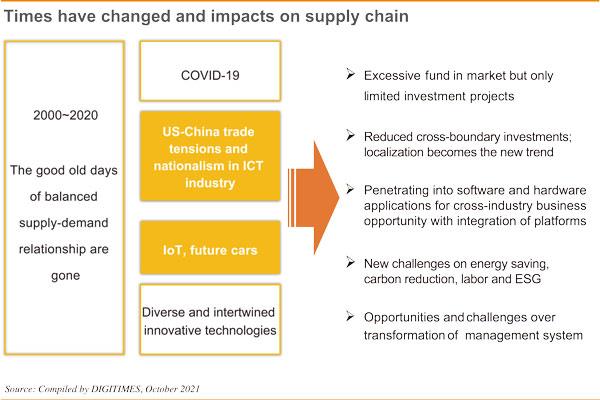 (Editor's note: This is part of a series of analysis of Taiwan's role in the global ICT industry.)